TEAM GBR TAKE BRONZE AT THE EUROPEAN CHAMPIONSHIPS
Friday 16 September 2011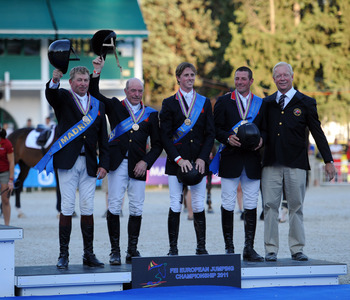 This evening saw the British Team take Team Bronze at the third and final day of the Team competition at the European Championships in Madrid (14-17th September).
The British team consisting of Ben Maher, Nick Skelton, John Whitaker and Guy Williams had started the day in 4th place behind the Netherlands, Germany and France. With an incredible amount of pressure on the teams in with a chance of medals, Team GBR showed their backbone and determination with all of the team putting in brilliant performances.
Nick Skelton, in keeping with his amazing double of clears achieved through the first two days produced another stunning clear on Beverley Widowson's ten year old grey gelding Carlo. Their performance was also enough to move Nick even further up the leader board for those contesting Individual medals on Sunday from third into second place.
Guy Williams with his own Titus II, an eleven year old bay gelding seemed to come into his own following his exposure at Championship level during the past two days. Taking everything in his stride the combination made the course look easy finishing clear but just slightly outside the time allowed meant the collection of a time fault.
Ben Maher with Quainton Stud's and his own a nine year old black stallion Tripple X III, horse that is also still in his first year of International competition had an unlucky touch at the front pole of the 'Madrid' oxer resulting in four faults. However, their performance was still good enough to keep Team GBR after their penultimate round in fourth position.
Last to go was John Whitaker with Rebecca Stone's fourteen year old bay stallion Peppermill. An unfortunate two fences down made their result the drop score of the competition leaving Great Britain on a total team score of 22.46.
But it was the Netherlands who seemed to crumble with the pressure having looked secure in their medal winning hopes. Having produced three clear rounds yesterday, their performance was far from the same with only one clear and relying on last to go Jeroen Dubbeldam producing a clear or at least only one fence down if they were to retain a top three position. Toppling two fences and incurring eight penalties that then had to be carried was enough to move Great Britain up into the Bronze medal winning position much to an elated crowd of Team GBR supporters.
As Individuals, Great Britain have moved up the leaderboard towards the final on Sunday when the Individual Medals will be decided. Nick Skelton has moved up into second place behind Germany. Ben Maher and John Whitaker have sit in 16th and 23rd placerespectively. With the leading twenty five riders after tomorrows round coming forward on Sunday for the final day of competition Great Britain are one of the few nations with three riders appearing so high on the ranking list.
Talking after the medal winning ceremony Rob Hoekstra, Team Manager and Chef d'Equipe, commented "The horses have all been brilliant, the guys have been superb under tremendous pressure and if I was honest with you we honestly thought we were going to have to accept we would be just outside the medals. To win a bronze on the wire, at the very last minute, is something I just can't explain. We are absolutely elated and delighted that we're able to bring back a medal for Great Britain"
Team GBR are supported by the World Class Programme, which is generously supported by Lottery and Exchequer funding via UK Sport. The Programme incorporates both the Development and Performance Programmes and the Equine Pathway, and works closely with the three BEF Olympic Member Bodies, British Dressage, British Eventing and British Showjumping.
Team Standings:
Gold - Germany 10.41 penalties
Silver - France 15.95 penalties
Bronze - Great Britain - 17.46 penalties
Nick Skelton / Carlo (0/0 faults)
Guy Williams / Titus (12/1 faults)
Ben Maher / Tripple X III (4/4 faults)
John Whitaker / Peppermill (4/ 8faults)
Individual Standings
1st Carsten-Otto Nagel / Germany (0.69)
2nd Nick Skelton / Great Britain (1.04)
13th Ben Maher / Great Britain (10.76)
16th John Whitaker / Great Britain (17.66)
All the news and behind the scenes views in the run up to and during the European Championships can be found on both the British Showjumping and Equestrian Team GBR's websites nearer the time. Visit www.britishshowjumping.co.uk and www.equestrianteamgbr.co.uk for more details or on the Chamionships website at www.europeansjumping2011.com