Olivia Sponer and Conella II are unbeatable in the NEDZ Advance Pony British Novice Championship
Saturday 10 October 2020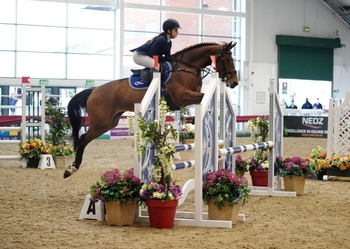 Fourteen year-old Olivia Sponer from London proved to be unbeatable in today's NEDZ Advance Pony British Novice Championship on day four of the British Showjumping Indoor Championships at Aintree Equestrian Centre. Riding Conella II, a 6 year-old bay mare owned by Kerry Grimster, Olivia set such a pace in the jump off that she finished over two and half seconds clear of her nearest rival.
Forty-three combinations came forward for this hotly contested Championship and 19 were able to find the answers in the first round for a place in the jump off. Olivia was drawn second to go on Conella II and the pair took all of the inside lines and made the most of the gallop down to the last to finish with a double clear in 29.20 seconds. A further 11 clears were produced by other combinations in the jump off but the time just couldn't be caught and after having finished second in yesterday's Pony Discovery Championship, Olivia was clearly delighted to have gone one better today.
Olivia's nearest rival was Rachel Proudley on Robe Park Bobby and they finished in second with a double clear in 31.53 seconds. Samuel Hitchen and Bearwood Barney took third and Olivia took fourth on her second ride, Indien Legacy.
Commenting on her ride, Olivia said "She's [Conella II] really quick on the turns and she's got a big stride so is able to go quickly in a jump off. She got a big jump and will never say no to a fence even though she can be quite hot. We knew that we needed to quick today and she responded brilliantly, she's really good like that.
Looking ahead to the rest of the week and then the next season, Olivia added "We've got the Blue Chip Pony Newcomers tomorrow and then we'll try the JC qualifiers for Hickstead. In the summer, we'll be aiming for the Newcomers and Foxhunter Championships."
The British Showjumping Indoor Championships runs between the 7 – 11 October at Aintree Equestrian Centre with a number of the major British Showjumping national titles being run across the event. Further information on the show can be found at www.aintreeequestriancentre.org and livestream from the event is available at www.britishequestriansport.tv powered by Clip My Horse TV.
RESULTS:
1st Olivia Sponer & Conella II – 0/0 – 29.20 seconds
2nd Rachel Proudley & Robe Park Bobby – 0/0 – 31.53 seconds
3rd Samuel Hitchen & Bearwood Barney – 0/0 – 32.56 seconds
4th Olivia Sponer & Indien Legacy – 0/0 – 32.68 seconds
5th Daisy Lewis & Oksana van het Haverveld – 0/0 – 32.88 seconds
6th Harriet Hodge & Killaughey Black Jack – 0/0 – 33.08 seconds
Image courtesy of Majestic Photography