Jennifer McLeish & Crag Storm make their journey from Scotland worthwhile
Monday 03 August 2020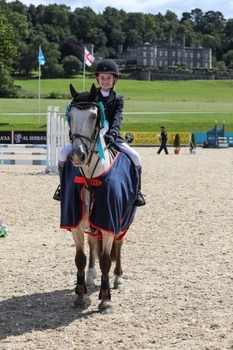 8 year-old Jennifer McLeish won the Junior Club 80cm Final at the NAF Five Star British Showjumping National Championships taking place at Bolesworth between the 3 – 11 August.
Having travelled down from Midlothian in Scotland for the first day of the championships it proved successful for her when she claimed the title riding the 138cm dun gelding Crag Storm. One of only two clears in the five strong jump-off, she achieved her win by finishing almost six clear aheads of 2nd placed Holly Phillips aged 13 from Llanelli in Wales with Greenvale Playtime.
About her win Jennifer said "I was in shock really when I heard I won, then afterwards I just hugged my pony and gave him a big pat. He's such a good pony, he's really good and he is quiet at home. I love making a fuss of him" before adding "It has been a great atmosphere at the show and the course was great too. I also really enjoyed getting some photo's of Crag and I jumping in front of the castle".
Jennifers father Ivor McLeish added "We only got Crag in January and had managed to do just thirteen classes before March when sport stopped. It was a bit daunting to come without having had any big warm-up with Scotland only just having come out of lockown but she had qualified and we wanted her to have the opportunity. It's been a really good day for us and we are here until tomorrow when Jennifer is also jumping on her school team, West Linton School".
For full results https://bit.ly/3khHHVw