Ele Sparkes from Berkshire is August's NAF Shining Star
Friday 17 September 2021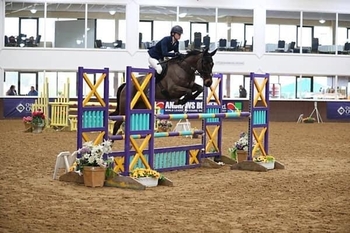 Ele Sparkes has been awarded the NAF Shining Star for August after being a much valued and committed member of the Academy. Always being the first to offer help and support to the younger children is what led lead coach Sharon Quant to nominate her on behalf of the Berkshire and Oxon academy.
Ele has produced her horse Birchills Speed Bonnie Boat, known as Austin at home, from a youngster and enjoys competing him in both Showjumping and Eventing competitions. They have been working hard to gain their Nupafeed Supplements Senior Discovery and Senior Newcomers double clears for 2022 during the past season.
Recently competing as team members at the British Showjumping National Championships and Academy Show in both the Intermediate and Advanced horse classes where they produced foot perfect rounds in both classes each day Sharon commented "They achieved individual 7th in the Intermediate (out of 99) and individual 9th in the Advanced (out of 60) plus her double clears both days helped her Intermediate Team to 7th place and finally taking the win as a Team in the Advanced Horse class. On top of all this Ele was nervously awaiting her A Level results and to find out she had achieved her first place Uni with a grade to spare was most definitely the cherry on the cake! Well done Ele and thank you for being such a great member of our academy".
After finding out she was the winner of August's NAF Shining Star, Ele said "I was so surprised and happy to win the NAF Shining Star award, I have been part of the Berks & Oxon Junior Academy for the past three years and our brilliant Lead Coach, Sharon Quant, has helped me bring on my young horse from jumping 75cm to now jumping and being placed in senior Foxhunter classes. I have loved representing the Academy at all the Academy shows and one of my favourite moments was when we won the team Advanced Horse class at the Nationals in August with my horse going double clear both days. Our academy is so supportive and there is great team spirit, we all support each other from the youngest to the oldest. I would definitely encourage anyone jumping British Showjumping to join their local Academy".
Lisa Field from NAF added "It is wonderful to hear about the help and support Ele has given to the younger children within the academy. This along with her recent success as part of the academy team and her progress with her horse Austin makes her a worthy winner of this month's NAF Shining Star, congratulations Ele!"
The NAF Shining Star Award was introduced when NAF became a British Showjumping Business Partner. The award is for members of a Junior Academy who have shown a great deal of commitment, progression, and outstanding behavior along with their riding ability and much more. Riders are nominated by their lead coach, and then judged and awarded by NAF to one person each month.