Nicole Lockhead Anderson wins Hickstead 1.40m Grand Prix
Sunday 12 September 2021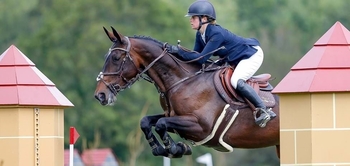 Nicole Lockhead Anderson ended her Hickstead season on a high by adding the Science Supplements All England Grand Prix title to her impressive collection.
The Scottish rider was on dominant form at the Longines Royal International Horse Show back in July, netting an impressive three International Arena wins. She has continued to impress at the Science Supplements All England September Tour, winning a 1.40m Open class earlier this week before going on to take the title in today's feature 1.40m Grand Prix.
Both wins this week came courtesy of the eight-year-old mare Azolette. "What a horse! She just gives me everything," said Nicole, who is based in Leicestershire as the stable jockey for Olympian Holly Smith. "She is so feisty and puts her heart on the line and wants to do it, which makes the job so easy for me. I can just let the handbrake off and off she goes. She is only an eight-year-old so it was a big ask today but I thought I'd just go as quick as I can, and she just loves the big arena and the big occasion."
Fourteen riders from 51 starters made it through to the jump-off, with Gemma Ellison qualifying three horses for the second round and Harriet Biddick bringing two forward. Gemma led for most of the jump-off with Fernhill Off Chance, until Nicole shaved nearly 2.5sec off the leading time. Harriet Biddick's second ride Night of Glory OL was the fastest of the lot but a fence down cost her what would have been her second All England Grand Prix title, though she did finish in eventual fourth with Galway Bay Jed. Last week's Grand Prix winner Trevor Breen – whose grand slam bonus hopes were dashed when Highland President had a late fence down in the first round – came closest to Nicole's time but was still a second in arrears on board Escapade H to finish runner-up.
Nicole also took second place in the first class of the day, the Billy Stud Auction All England Novice Championship, riding Mr QT. The win went to Alex Bishop and Nobelle Casscania for the second week in a row, having won the same class in week one of the Tour. Next stop for the British-bred mare is to go to Lanaken for the six-year-old final at the FEI WBFSH Jumping World Breeding Championship for Young Horses.
Jay Halim has collected almost as many Hickstead winners' rugs this season as Nicole has, and today he added another to his collection, just 24hr after lifting the Science Supplements 1m Open grand slam bonus. His victory came in the final class of the meeting, the LeMieux All England 1.30m Open Championship, riding the 11-year-old bay mare Winning Moon. His super quick jump-off time saw him go more than 2sec faster than Trevor Breen and Toyger in second.
A brand-new ride for Derek McCoppin saw him take victory in The EQ Horseboxes All England 1.20m Open Championship. He was one of eight in the jump-off, and the fastest of three double clears to take the title on the 12-year-old Banderas. "I only started riding him this week, and he won on the first day, was placed on Friday and has won the final," said Derek.
For all today's results, click here.