British Showjumping's Team NAF announced for CSIO3* EEF Nations Cup in Lisbon
Friday 13 May 2022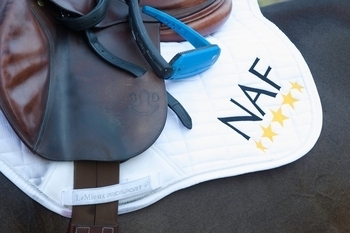 Great Britain will kick off their EEF Series campaign at CSIO3* Lisbon (POR). The competition takes place between the 25th-29th May at Hipodromo do Campo Grande. For the competition, the following squad have been selected to represent Great Britain under the title sponsor banner of Team NAF.
Karl Robins from Gawcott, Buckinghamshire with his own 11-year-old bay mare G Camille HBF.
Oliver Fletcher from Faringdon, Oxfordshire with Lady Kirkham's and Lady Harris's 10-year-old bay gelding Hello William.
Scarlett Charles from Alton, Hampshire with Hill House Equine's 13-year-old chestnut gelding Chicago's Boy.
Sienna Charles from Alton, Hampshire with Princess Haya Bint Al Hussein's 17-year-old bay mare Ornellaia.
William Fletcher from Faringdon, Oxfordshire with John Walton's and his own 11-year-old bay mare Ginadina PP.
The Nations Cup competition takes place on Friday 27th May at 18:00 hrs local time and the Grand Prix will be on Sunday 29th May at 15:00 hrs local time. The Chef d'Equipe for the team will be Tony Newbery.
The EEF series, launched by European Equestrian Federation, is designed to support European nations in developing their horses and riders in high-level competition to help bridge the gap to the Division 1 series. The series encourages the participation of younger developing talents by requiring at least one member of the team to be under 25 years of age. More information on the series can be found here.
For further information on the show and full results once the show is underway, visit http://www.csiolisboa.com/. Watch the event unfold in photos at https://www.instagram.com/csio_lisboa/.
British Showjumping would like to thank NAF, title sponsors of the Senior Nations Cup Teams along with the Pony, Children, Junior, Young Rider and Veteran teams.
NAF's premium range of Five Star brands include Superflex, Superflex Senior, PROFEET, Optimum, Magic, Oestress and Respirator Boost with quality at the heart of everything they do. They are a UFAS (Universal Feed Assurance Scheme), GMP+ (International Feed Assurance Scheme) and BETA NOPS (Naturally Occuring Prohibited Substances) accredited company and this enables them to guarantee full traceability on all the natural ingredients they utilise in their formulations, which are also selected in compliance with the FEI guidelines for Clean Sport. For further information, visit www.naf-equine.eu/uk/index.jsp.
The GBR showjumping teams are supported by the British Equestrian Federation's World Class Programme, funded by UK Sport through the National Lottery. The Programme focuses on identifying talent, developing potential and maximising medal-winning performances on the world stage. The teams are further supported by LeMieux, who supply the teams with saddlepads and rugs.