Izabella Rogers takes the Pony Foxhunter Masters Title
Thursday 05 August 2021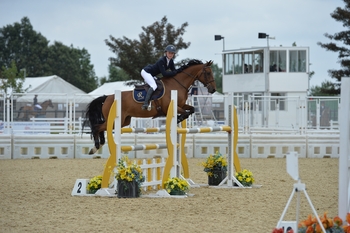 13 year-old Izabella Rogers from Chelmsford riding Neil 55, known as Neil at home, were the well-deserved winners of the Pony Foxhunter Masters earlier today at the British Showjumping National & Academy Championships being run at the NAEC, Stoneleigh. The combination displayed true showmanship navigating their way around the course achieving the fastest time of 37.84 seconds out of the five competitors who made it through to the jump off.
Commenting on Neil, proud Izabella said: "He [Neil] is a very energetic character and can be horse shy but he loves his job and once he gets into the arena, he knows his job and wants to win!"
After her success, Izabella went on to explain that she is now concentrating on preparing for Horse of the Year Show 2021 for the rest of her season. Next year, she has big plans to aim for selection on to a Pony Nations Cup team and also to focus on the Leading Pony Showjumping qualifiers.
Izabella also achieved second place in the Pony Foxhunter Masters with pony Queen Star with a jump off time of 39.67 seconds. Following closely behind were Isabelle Doyle and Ross Culleens Lad in third place.
Full results here