British Showjumping Springboard 138cm Final
Monday 19 April 2021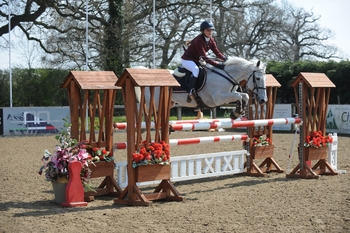 Tilly Dickinson-Gaunt, aged 12 from Saffron Walden, remained cool-headed despite the pressure to post the only clear round in the jump-off to land the Springboard 138cm final with her mother Faye Gaunt's Airbourne Freddie. It made her journey from her Essex base to the Winter Pony Finals at South View Equestrian Centre in Wettenhall, Cheshire, more than worthwhile.
Just seven competitors from a start-list of twenty-four jumped first round clears over course-designer Gillian Milner's 12-fence track to return for the jump-off with Sula von Bulow touting two chances. But much to her indignation, Sula hit the back rail of the penultimate oxer on both occasions with Tullineaskey Fear Deas and final ride Youghal Paddy and had to settle for second and third.
It left 12-year-old Tilly – who started jumping at British Showjumping level two years ago – to claim her first championship win with the only foot-perfect round on the 18-year-old Airbourne Freddie.
"Freddie has got a friendly and relaxed personality at home. He brightens up in the ring and can be strong, but he knows his job and helps me out," said Tilly, who trains with BS accredited coach Annette Lewis.
Tilly stuck to her jump-off plan and used her pony's stride on the long runs.
"I've only ridden him since October and because of lockdown this is only our sixth show so I wasn't going to do the sharp turns but we have managed to get a couple of shows in before coming here so we weren't too ring-rusty."
Results
1st Tilly Dickinson Gaunt & Airbourne Freddie – 0/0 – 41.22 seconds
2nd Sula von Bulow & Tullineaskey Fear Deas – 0/4 – 34.58 seconds
3rd Sula von Bulow & Youghal Paddy – 0/4 – 36.66 seconds
4th Zak Kent & Atlantic Rocky Rode – 0/4 – 40.25 seconds
5th Abigail Jupp & Bressie – 0/8 – 44.55 seconds
6th Tilly Bamford & Never Last II – 0/E