Young Riders bring home Team Bronze from Youth Europeans
Friday 23 July 2021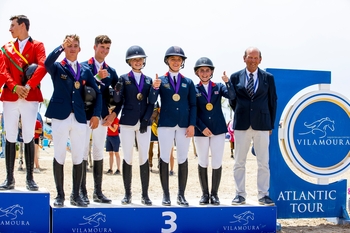 It was another successful day at the Youth European Championships in Vilamoura today when the Young Rider team matched the success of the Juniors yesterday by winning Team Bronze.
Riding under the sponsor banner of Team NAF and under the direction of Youth Team Manager Clare Whitaker and Chef d'Equipe Tony Newbery they delivered superbly from start to finish to ensure their well-deserved place on the podium.
Taking after the competition Clare Whitaker said "We had to fight to the end and everyone rode really well. Jack was brilliant at the end to post a clear and I'm very proud of the team today and what they have achieved."
How it played out
The squad of five riders all performed extremely well across all three stages of the competition. The first leg, a speed competition on Tuesday, saw them finish on a collective coefficient score of just 4.42 to sit in 1st place across the sixteen nations contesting the title. Hot on their heels were Belgium on 5.35 in 2nd place with Germany and Ireland following them respectively.
Yesterdays competition, the second of three, saw a change in fortunes with Belgium move into GB's top spot relegating them into 4th place whilst Ireland stepped just ahead of Germany. With the same four nations still all in hot contention for medals albeit in different places on the leaderboard it was clearly obvious that the third and final leg of the competition was going to be a fierce one.
Coming forward this afternoon, Great Britain sat just a fraction of a penalty behind Germany on 16.72 whilst Belgium was holding their lead by just over two penalties ahead of Ireland on their score of 13.35. The overnight scores had also highlighted a further threat in the form of Spain who had climbed from 9th place overnight to sit in 5th on 18.67, just under 2 penalties behind Great Britain.
With all five nations determined to secure their country a spot on the podium it was an incredibly competitive field that came forward and the final placings weren't decided until the very final riders had jumped. Germany fell by the wayside when each of their riders picked up penalties to see them finish on a score of 32.36 seconds whilst Spain continued to pull ahead to finish in 4th on 31.67. It was then the three key players of Belgium, Ireland and Great Britain that had to battle it out between them with Belgium retaining the lead they held to take Gold, Ireland in Silver and our clear by final rider for the team, Jack Whitaker, being the performance we needed to keep Spain off the podium and for GB to claim the Bronze.
Team Performances
The trailblazer for the team was Jodie Hall McAteer, aged 21 from Borehamwood in Hertfordshire, with the 11 year-old bay mare Kimosa Van Het Kritrahof owned by Mandy Hall. A fantastic opening round on day one saw them finish on an impressive coefficient of 0.00 in 1st overnight. Day 2 and today's competition just didn't go right for Jodie having been uncharacteristically caught at a number of oxers across the course to see them become the drop score on both days finishing on a tally of 28 penalties.
Lily Freeman Attwood, aged 19 from Aylesbury in Buckinghamshire, with the 11 year-old chestnut gelding Karibou Horta owned by Emily Freeman Attwood played a pivotal part in the team finishing on a coefficient of 2.05 on the first leg before jumping clear on the second. A touch at two elements of the combination in today's leg saw them pick up 8 penalties to finish on just 10.05 in total.
Sienna Charles, aged 18 from Alton in Hampshire, with the 16 year-old bay mare Ornellaia owned by Team Harmony Llc, delivered a foot-perfect clear in the opening leg to accrue their coeeficient score of 3.69. Yesterday's second leg saw them pick up 8 penalties across the course with today's round looking set to be an outstanding clear before heartbreakingly picking up 4 penalties at the final fence.
19 year-old Jack Whitaker, from Whatton in Nottinghamshire, with the 11 year-old dark brown mare Scenletha owned by Michael Whitaker carried the weight of the medal on his shoulders when he entered the arena this afternoon. Coming forward with 6.67 penalties having had a light touch of a pole yesterday to accrue 4 penalties to add to his first round clear coefficient score of 2.67 he knew that nothing other than a clear would secure the medal for Great Britain. Jack, as always, rose to the job asked of him by delivering a faultless performance in incredible style. Knowing that he had done enough to secure Great Britain a medal he couldn't have been any more delighted than he was as he broke the finish line and rode towards the support team and his fellow riders.
Competing as an individual across the second and third legs was fifth squad member Robert Murphy, aged 20 from Preston in Lancashire, with the 10 year-old grey mare Highcross Violet owned by Elizabeth Jackson and Patrick Murphy. Their opening day saw them post a faultless performance to finish on a coefficient of 5.12.
Individual Competition
The Young Riders will jump for their Individual medals on Sunday 25th July, with Jack Whitaker currently sitting in 2nd position on 6.67 penalties whilst Lily sits in 11th place on 10.05 and Sienna in 27th on 15.69.
For full results from the Championships please visit https://online.equipe.com/en/competitions/42157
British Showjumping would like to thank NAF, title sponsors of the Senior Nations Cup Teams along with the Pony, Children, Junior, Young Rider and Veteran teams.
NAF's premium range of Five Star brands include Superflex, Superflex Senior, PROFEET, Optimum, Magic, Oestress and Respirator Boost with quality at the heart of everything they do. They are a UFAS (Universal Feed Assurance Scheme), GMP+ (International Feed Assurance Scheme) and BETA NOPS (Naturally Occuring Prohibited Substances) accredited company and this enables them to guarantee full traceability on all the natural ingredients they utilise in their formulations, which are also selected in compliance with the FEI guidelines for Clean Sport. For further information, visit www.naf-equine.eu/uk/index.jsp.
The GBR showjumping teams are supported by the British Equestrian Federation's World Class Programme, funded by UK Sport through the National Lottery. The Programme focuses on identifying talent, developing potential and maximising medal-winning performances on the world stage. The teams are further supported by LeMieux, who supply the teams with saddlepads and rugs.