Team NAF Children win Team Bronze at the Youth European Championships
Saturday 24 July 2021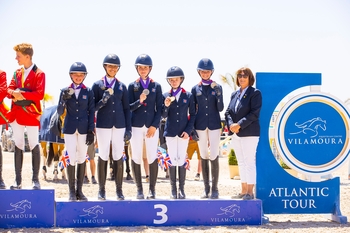 The Children's team, competed under the title sponsor banner of NAF and aged between 12 – 14 years, secured the 3rd Bronze medal of the European Championships in Vilamoura, Portugal this afternoon with a fight to the last for their place on the podium.
The Championships commenced on the 18th July and this was the 3rd age category team medal offer with both the Junior and Young Rider squads picking up Bronze medals on Thursday and Friday respectively. For the Children their podium position was less than a fence behind Italy who took Silver on 8 penalties and Belgium who claimed the Gold on just a single fence 4 penalty finish. Their medal win was all the more notable bearing in mind the strength of the company they were competing in which spanned a total of 19 nations.
Tabitha Kyle, aged 14 years from Loughborough in Leicestershire, with the 13 year-old black mare Desterly I owned by T J Hall Limited took the role of pathfinder for the team this afternoon which was the final leg of three counting towards team medals. Their impeccable performance throughout the three days saw them finish on zero penalties and play a pivotal role in the overall delivery. Tabitha's consistency sees her sit in joint 1st position on the Individual leaderboard as we go forward to the Individual Final tomorrow.
Emily Fisher, aged 13 years from Reading in Berkshire, with the 9 year-old grey mare Heerdestar owned by Keith Fisher opened up with a very stylish clear on day one. The following two legs however saw her pick up an unlucky 6 penalties apiece and become the drop score for this afternoon.
Madison Seedhouse, aged 14 years from Burton-on-Trent in Staffordshire, with the 9 year-old mare Emara Giguellerie Z owned by ESM Equestrian also rode a great foot-perfect clear on the opening day. A change in fortunate saw them accrue 8 penalties in the second leg however they pulled it out the bag this afternoon when they posted another faultless round to give GB the much needed boost that was needed to keep them in contention for a medal.
With all to play for and where a fence could make the difference of winning a medal for not only Great Britain but also Italy and Ireland it was certainly a lot of pressure that each of the team anchor riders carried on their shoulder. For Great Britain it was 12 year-old Noora von Bülow from London that had to carry the weight with her and the 11 year-old bay mare Lucky Lisa owned by Sharifa Al-Homaizi. Having jumped clear in the first round to match that of her team mates she had picked up 5 penalties in the second leg and she came forward knowing that nothing other than a clear would do. Showing maturity far beyond her years and team appearance experience she delivered exactly what was needed; a faultless performance and the security of knowing they had done enough to be in the top three placings.
Fifth rider for the squad was Eve McCoy, aged 13 years from Hungerford in Berkshire, with the 13 year-old bay gelding Non-Stop owned by Tony McCoy. Clear in the first round she has progressed through the competition in the 2nd and 3rd legs as an individual picking up 12 penalties on Day 2 with them putting in a solid performance this afternoon to finish with just 5 further penalties.
Clare Whitaker, Youth Performance Manager for British Showjumping, said after the competition "We were in 7th place overnight and during our team talk last night we agreed that if we came out and posted three clears then we could still medal. Everyone slept on it and were really determined and positive this morning that we could do it. They came out and delivered exactly what we asked of them which put pressure on the other teams and saw us moving up the leaderboard each time one of our riders came out. I'm delighted with what they achieved today and how they fought to the very end for what was rightfully theirs."
For full results from the Championships please visit https://online.equipe.com/en/competitions/42157
British Showjumping would like to thank NAF, title sponsors of the Senior Nations Cup Teams along with the Pony, Children, Junior, Young Rider and Veteran teams.
NAF's premium range of Five Star brands include Superflex, Superflex Senior, PROFEET, Optimum, Magic, Oestress and Respirator Boost with quality at the heart of everything they do. They are a UFAS (Universal Feed Assurance Scheme), GMP+ (International Feed Assurance Scheme) and BETA NOPS (Naturally Occuring Prohibited Substances) accredited company and this enables them to guarantee full traceability on all the natural ingredients they utilise in their formulations, which are also selected in compliance with the FEI guidelines for Clean Sport. For further information, visit www.naf-equine.eu/uk/index.jsp.
The GBR showjumping teams are supported by the British Equestrian Federation's World Class Programme, funded by UK Sport through the National Lottery. The Programme focuses on identifying talent, developing potential and maximising medal-winning performances on the world stage. The teams are further supported by LeMieux, who supply the teams with saddlepads and rugs.