Tabitha Kyle scoops the Blue Chip Pony Newcomers Second Round at Bicton Arena
Saturday 18 June 2022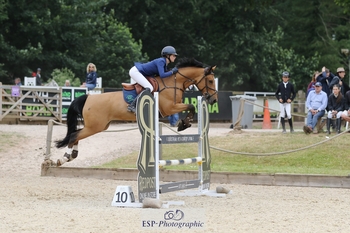 At Bicton Arena Pony Premier, 14 year-old Tabitha Kyle from Loughborough, Leicestershire scoops the Blue Chip Pony Newcomers Second Rounds, riding Lucinda Campbell's Oakley III.
Against a starting field of 68 keen combinations, Tabitha rode two clear rounds aboard the 8 year-old bay mare for a spot in the final jump off along with 18 other combinations. Riding clean lines with speed and accuracy, this partnership proved unbeatable as they stopped the clock just over three second ahead of their nearest rival in 39.84 seconds. Tabitha also took third on Ryan Dorise's 7 year-old grey mare, Running In Heels.
Bicton Arena – Saturday 18th June 2022
Blue Chip Pony Newcomers Second Round
1st Tabitha Kyle & Oakley III – 0/0/0 – 39.35 seconds
2nd Poppy Deakin & Candi Girl Z – 0/0/0 – 42.65 seconds
3rd Tabitha Kyle & Running In Heels – 0/0/0 – 43.20 seconds
For the full results click here
For the list of qualified riders so far click here.
NB: Results pending official grading.
Image: ESP-Photographic - https://www.esp-photographic.co.uk/
Blue Chip:
Blue Chip Feed Ltd produce the highest quality feed balancers and supplements available in the UK; there is a feed balancer for every stage in a horse's life to ensure optimum health and well-being. Blue Chip products are exported worldwide. For more information please visit www.bluechipfeed.com.