Tabitha Kyle notches another win by taking the British Showjumping 138cm Championship
Sunday 11 October 2020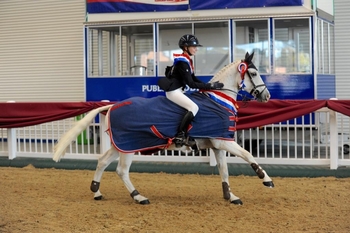 Thirteen year-old Tabitha Kyle took the lead in the 13 strong jump off in the British Showjumping 138cm Championship, sponsored by Cats & Pipes, earlier this morning from an original field of more than thirty starters.
Fresh from her Pony Foxhunter win on Friday her victory this morning came on her long-standing 17 year-old pony Lissduff Royal owned by mum Tanya. The jump off course required forward riding of each of the thirteen young riders who wanted to win the title and none of the competitors held back with them all pushing forward trying to not only jump clear but also stop the clock ahead of their rivals.
It became a two-way battle between Tabitha and Bella Wild with each of them having three ponies apiece in the jump off. An early lead by Tabitha with Mister Proper saw them set the standard with a time of 31.74 seconds which Bella wasn't able to chase when she came forward for the first time with In the Moment. However this changed when Bella pushed the competition up a level when she galloped her way round on Follow Jazzy Lady to jump clear in a time of 29.48 seconds; the first rider to break the 30 seconds barrier at that point and claim the lead.
Coming forward on her second ride with last years HOYS 138cm winner Playboy van de Zoetewei, all eyes were on Tabitha however despite jumping clear in a very fast time of 29.63 seconds it just wasn't enough to push Bella from the top spot. The tables changed however when as the penultimate competitor, with just Bella to come behind her on her third ride, Tabitha came forward on the long striding Lissduff Royal. A forward ridden round taking many of the jumps on the turn whilst also pushing the pace between fences saw them do just enough to pip Bella to the post when they broke the finish line in 29.03 seconds to claim the lead. It was then a case of waiting for Bella to come forward to see if she could claim it back from Tabitha, however it wasn't to be on Fancy A Baileys when she finished in a time of 30.85 seconds to take eventual 4th place.
This saw Tabitha not only win the class but also take 3rd and 5th whilst Bella sat in 2nd and 4th alternating the placings between them. Talking after the presentation Tabitha said "It was a good course but I had to make sure I gave my ponies some space at the jumps as the sun was out today and making the jumps shine a little on one side. However, it didn't affect them that much and they jumped really well." Laughing she added "The only thing I didn't like was the poles with the horizontal lines as they make my eyes go funny!"
About her pony she added "We know each other really well. He's quite a sharp character when you're out on him but he's very chilled at home. He used to be a bit stuffy in the arena but now he trusts me to go on a bigger stride. He has a big stride and we were motoring in the jump off, he always turns well and I can always trust him."
The British Showjumping Indoor Championships runs between the 7 – 11 October at Aintree Equestrian Centre with a number of the major British Showjumping national titles being run across the event. Further information on the show can be found at www.aintreeequestriancentre.org and livestream from the event is available at www.britishequestriansport.tv powered by Clip My Horse TV.
RESULTS:
1. Tabitha Kyle / Lissduff Royal (0/0 29.03)
2. Bella Wild / Follow Jazzy Lady (0/0 29.48)
3. Tabitha Kyle / Playboy van de Zoetewei (0/0 29.63)
4. Bella Wild / Fancy a Baileys (0/0 30.85)
5. Tabitha Kyle / Mister Proper (0/0 31.74)
6. Alice Crowley / The Agent (0/0 33.06)
Image courtesy of Majestic Photography