Robert Smith lands 2* Grand Prix at Northcote Stud
Sunday 08 May 2022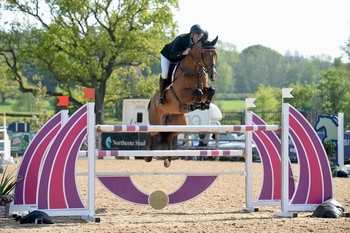 Robert Smith landed the big prize on offer in the feature AW Jenkinson 2* Grand Prix with Ilton at Northcote Stud's inaugural International four-day meeting in Lancashire.
This Grand Prix was run over three rounds and course-designer Nigel Jess set a series of questions testing rideability, scope and a tight time in his 1.45m 12-fence track. Twenty-five percent of the fifty starters were destined to reach round two, but only five initial clears were produced as five carrying time faults and the two fastest four-faulters joined them for a round two of twelve competitors.
There were groans and gasps as rails fell but three of the best posted double clears to make for an exciting jump-off. First off Lance Whitehouse tipped the vertical into the double to put Bazento out of contention but young rider Olli Fletcher set down the gauntlet on Lady Harris and Lady Kirkham's Waldo Van Dungen 10-year-old Hello William with a clear in a faster time.
The pressure was on last-to-go Robert but he dismissed it with ease, flying along the tightest of lines with the Dulf Van Den Bisschop x Calvaro Z 14-year-old Ilton owned with Karina Reilly to secure the top spot by 0.94 seconds.
"On his day he can win good classes and today he was on it," said Robert.
Guy Williams hit top speed to score a two-star double victory. He outpaced 72 rivals in the 1.40m Winning Round – 25% of the class return for round two against the clock – by 0.85 seconds on Tracy Holder's Corofino 2 x V. Bon Ami 12-year-old Crispina Z, beating Mark Edwards and Flying Tinker II into second.
"Mark was just before me and the best one to watch and I thought I'd copy him and hopefully go a bit quicker. She [Crispina] is very fast, good at turning and comfortable at this height," said Guy.
Guy's second victory came in the Small 1.30m final with Cicero II. Twenty-three of the eighty-nine competitors accessed the jump-off with late-drawn Guy wrenching the lead by just 0.15 seconds from Annabel Shields and Carnoneybridge Challenger.
"He's been in light work after having three months off since winning a big class in Vilamoura, Portugal, last November but he'll soon be ready for the bigger shows again," said Guy.
George Whitaker and Martin Wood's 9-year-old Peanut (Barrichello x Quasimodo Z) proved the quickest in the 63-strong Big Tour Welcome Stakes with 1.68 seconds to spare.
"He's naturally very quick and the best chance I have at being competitive," said George, who is considering the 2* classes at Chard and Wellington in Britain and the Global Champions Tour in Monaco.
Paul Barker judged his Big Tour Top Score course to perfection to claim the win by seventy points on his home-bred Luidam x Grandeur 10-year-old stallion Green Grass. Riders had sixty seconds to jump as many fences as possible and allowed to jump any fence twice, including the 200point Joker, although if it was dislodged it was minus 200 points. Alicia Page settled for second and third on Ulievka De Breve and Diacento.
Alicia Page had fired a warning shot on day one with a win on Jane Smallman and Justin Skinner's Lady Shergar and the pair duly lifted the 6-year-old Final by 0.78 seconds in the 15-horse decider.
She's so easy and jumping in Vilamoura, Portugal, in February where it is so competitive has set her up for the year," said Alicia, who acquired the Otangelo x No Limit mare one year ago from breeders John and Laura Renwick.
British-based Irishman Conor McMahon claimed the 5-year-old 1.10m Final in a 13-horse jump-off by 0.33 seconds on Ellavar X2. It was only the third show for the Calvaro Z x Clearway mare.
"She was fourth in the four-year-old final here last year and hasn't competed again until returning to this venue two weeks ago. She's easy and straightforward to ride and perfect for me," said Conor.
On-form locally based Rachael Connor scored four wins. The super-quick Casantos x Oklund 12-year-old mare Fantastic topped the 26-strong 2* Small 1.25m Accumulator with 2.13 seconds in hand for Rachael while the Caspar x Orlando 8-year-old Isabeau SSB doubled up. The pair claimed the 41-horse Silver 1.15m Two-Phase Welcome Stakes by 1.15 seconds and went on to take the 1* Silver Tour 1.20m Final on her 30th birthday in a nine-horse jump-off as the only combination to break the 30 second barrier and win by 1.19 seconds.
"Fantastic is ultra-careful and always gives 110% and Isabeau is a quiet sweetheart at home but is so excitable at a show, she loves to jump," said Rachael, who celebrated her 30th birthday on the final day of the show.
Tracy Connor's home-bred Otangelo sired Tangfastic scored Rachael's other win in the 24-entry 5-year-old 1.05m Two-Phase by 0.34 seconds.
Holly Johnstone notched up a victory double at her first ever FEI show on the 1* Bronze 1.10m Tour with Gogobantos, heading Saturday's winning round by 0.33 seconds and landing two of the top three places in the 16-horse jump-of of the Bronze Tour Final, the Crespo VDL x Douglas 11-year-old Gogobantos claiming a 0.33 second win and taking third aboard Carquois De Ceve.
"Carquois is normally my faster horse but his time was beaten so I had to do something and 'Gogo' has a bigger stride so he found the jump-off easy," said Northumberland based Holly. "I was here to enjoy the experience and watch and learn from the top riders, to get two wins is more than I ever dreamed of."
Watch again
Catch all the action via our www.britishequestriansport.tv and Livestream catch up.