Robert Murphy awarded the Ella Popely Mentorship Award
Saturday 18 December 2021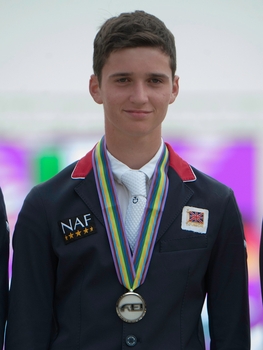 Robert Murphy from Preston, Lancashire has been awarded the Ella Popely Mentorship Award for 2022 at the London International Horse Show this afternoon. The mentorship, which was set up in honour of young rider Ella Popely who sadly lost her life in 2016, is offered to an up-and-coming rider aged 18 – 25 years old giving them the opportunity to be mentored by one of the best riders in the world.
Robert, who has won medals at Pony, Junior and Young Rider level for Great Britain, will be mentored by London 2012 Team Gold medallist Peter Charles MBE who is based in Alton, Hampshire.
On being selected for the mentorship Robert said "This is a massive step in the right direction towards my end career goals which are ultimately to be where I can manage to build a sustainable business in the sport whilst also competing at the highest level. What Peter has managed to achieve is exactly what I would personally want to and he really is one of the best in the world across all levels. To have Peter as a mentor that I can learn and draw knowledge from is unbelievable and I just feel so fortunate to have this opportunity."
Lea Popely, who founded the mentorship in her daughters memory, said "I'm delighted that a rider as talented as Robert applied and has subsequently been awarded the mentorship. I very much look forward to following his showjumping career over the next twelve months working alongside Peter who I'm extremely thankful to for offering his time voluntarily as a mentor."
Peter Charles MBE said about the mentorship and Robert "It's lovely to be involved in the mentorship as we knew Ella from day one and she had the most beautiful personality and really was a special girl on all levels. With regards to Robert, I hold him in high regard and I've known him nearly all his life as he has competed with my own children across the Board. He is a hard working and talented rider who has already ridden some of my horses for me. There's a lot more ground to explore over the next twelve months and beyond and I hope that we do the mentorship justice in terms of developing his skills, talent and knowledge further".