Oxfordshire's Jay Halim wins Speed Horse of the Year
Sunday 10 October 2021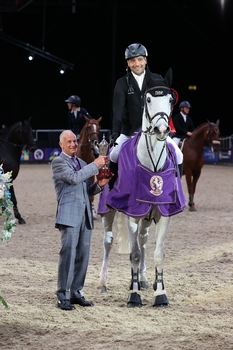 Oxford based Jay Halim secured one of the biggest wins of his career as he and his horse Aragon Z scorched their way to success in the Speed Horse of the Year class on the final day of the Horse of the Year show at the NEC in Birmingham on Sunday.
Aragon Z, a 10 year-old grey gelding owned by Duncan and Barbara Arthurs, set the arena alight when Jay piloted the gelding around the track to cross the finish line in 48.12 seconds just 2/10th of a second faster than GB Olympian Holly Smith on 48.32 seconds.
Speaking of his win, Jay commented "I had aimed him for this class specifically at this show, I only got into the International here quite last minute and annoyingly I only got to really bring one horse. I booked my puissance horse who's had to fill in a few other spots. I am very grateful to be here and it's my first time actually in the International here at Horse of the Year Show.
It's always nice to win on home turf, I feel like I came here and made a point that I should be here and deserve to be here, I am really proud of my horse, and he actually won here two years ago in the Talent Seekers Final so its nice just to cement he is the winner that he is today.
I didn't see Holly's round, but I know that when Holly goes fast Holly goes fast and basically you don't take a chance. I have actually beaten Holly on one previous occasion at Bolesworth when I won the Grand Prix with him there, but she has beaten me many times so its quite nice to get at least one up on our Olympic rider.
Its amazing to be here at Horse of the Year Show and last night the atmosphere was absolutely incredible and it just goes to show that there is a demand for it and we now need to supply to the demand."
Full Results
For more information on ticketing and the timetable at Horse of the Year Show that runs until 10 October at the NEC please visit www.hoys.co.uk