Mr Blue Sky shines on a new era for the London International Horse Show
Thursday 16 December 2021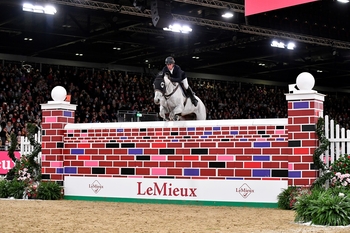 The famous Puissance wall took centre stage at ExCeL London for today's Evening Performance when GBR's Guy Williams, jumping 2.10m, took the win. And there was a double Swiss victory when Martin Fuchs scored a win in both the Santa Stakes and the Christmas Pudding Stakes.
The LeMieux Puissance
The iconic Puissance competition provided a fitting conclusion to the opening day of the Show. The famous red wall was raised to 2.10m in the fourth round, a height that could only be cleared by Guy Williams riding Mr Blue Sky UK. The combination, who were joint winners of the same class at the 2018 Show, were up against three other challengers in the fourth round, but Williams and Mr Blue Sky UK - who have an exceptional Puissance record - came out on top as the only pair to jump the wall without fault. Equal second was shared between French riders Mathieu Billot and Daniel Delsart, who both finished on four faults in the fourth round.
A delighted Williams said: "He jumped so well tonight, he is such a good Puissance horse and so reliable. I know him really well - I have had him since he was four, so it is great to win here again with him. The atmosphere was so good in the arena, I could hear people cheering for us but I was trying to focus on my job and what was in front of us. My plan is to jump him in the FEI Jumping World Cup™ on Sunday as he's feeling good, but will see how we go over the next couple of days."
Opening CSI5* Jumping Classes
The CSI5* Show Jumping got underway with The Santa Stakes, a 1.50m jump-off class, which was won by World No. 4, Martin Fuchs, from Switzerland, riding The Sinner. 12 combinations made it through with a clear first round, setting up for a scintillating jump-off against the clock, and in the end just 0.11 seconds separated the top three. Fuchs commented: "This is a perfect start to the London International Horse Show with a win in the big class. The Sinner loves to come to London and really enjoys this Show, when he went in the ring I could feel he wanted to do his best and he loves performing here, and so do I!"
Fuchs' winning streak continued as he made it two from two on the opening day of the Show with victory in The Christmas Pudding Speed Stakes. Drawn fourth of 34 starters, Fuchs laid down the gauntlet, making all the turns and keeping his foot on the gas throughout to post a time to beat of 53.34 seconds. Those who followed were unable to match his pace and accuracy. Great Britain's Guy Williams, notorious for his speed against the clock, put in a valiant effort to post a time of 54.82, finishing fourth, and France's Olivier Robert also came close with a time of 54.48. Last to go, Britain's Tokyo 2020 Olympic Champion Ben Maher had the sell-out crowd on their feet with an explosive gallop to the last, but despite his best efforts he could only go into second.
Speaking after the class, Fuchs said: "I knew my horse would be very fast, so I thought I would give it go and try to put as much pressure on the rest of riders as possible. It was very tight at the end as Ben was quick but I was happy to stay on top. The atmosphere here is amazing, performing in front a full crowd is so cool and the facilities here are amazing for the horses, I am really enjoying the Show so far."
More information about The London International Horse Show, including how to buy tickets, can be found here