Leslie Squibb (August 1950 – Oct 2020)
Friday 30 October 2020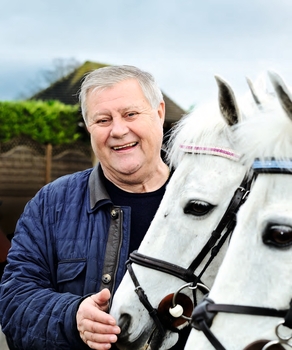 It is with great sadness that British Showjumping learn of the passing of Leslie Squibb, Chairman of the Squibb Group and longstanding sponsor and supporter of the sport.
Leslie had an unbridled passion for showjumping which manifested itself through a 20 year-title sponsorship of the Pony Foxhunter Championships through to the sponsorship of classes at numerous shows up and down the country.
Born above a stable in Stepney where his father Harry T Squibb had started a business in 1938, clearing rubbish and other materials from East London and the Docklands, horses were always an integral part of Leslie's life. Joining the company in 1969 as a 19 year-old, H T Squibb and Son thrived to become the Squibb Group as it is now known. Holding the position of Chairman in latter years, Leslie took great pride in seeing the business continue to grow under the guidance of sons Leslie and Westley.
Having maintained his interest in horses and ponies throughout his childhood, Leslie impulsively purchased his first horse when visiting a market at the age of 21. "Don't ask me why, as I don't know" he once said to British Showjumping before explaining that he had brought it home and found it could really jump and that was the start of his passion for the sport.
In time, Leslie met and married wife Pat and when children arrived they also shared Leslie's passion for equestrianism with the entire family, which now also includes fourteen grandchildren, regularly competing and supporting each other at shows. Talking with pride about their involvement in the sport he said once "I have mainly got ponies because I've got a lot grandchildren! It gives me an interest and when showjumping gets in your blood it is very hard to get it out".
In 1997, Leslie took the decision to sponsor the Pony Foxhunter Championship, a sponsorship that lasted for two decades and one that British Showjumping will always be extremely grateful for. It is a class that Leslie felt strongly about as it was a class he felt was open for anyone to win and that would give a child the opportunity to live the dream of winning at Horse of the Year Show.
Leslie leaves a legacy within the sport with many of his grandchildren competing extensively within the pony sector and with considerable success. He also leaves a multitude of people within the sport who all held him in the highest regard, not only as the family man and great businessman that he was but also for his extensive knowledge of the sport and the generosity that he showed to it not only via his sponsorship but also in the time he invested personally to helping others.
British Showjumping would like to take this opportunity to extend their heartfelt condolences to wife Pat who Leslie leaves behind and the rest of their family during this extremely difficult time.