Leonora Smee wins CSI2* Grand Prix in Monaco
Monday 26 June 2017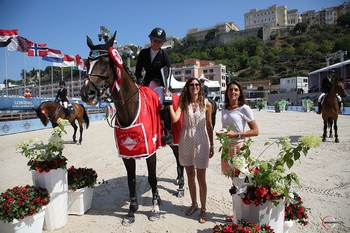 In one of the world's most iconic showjumping locations, Monte Carlo, Leonora Smee from Marlow in Berkshire took top spot in the CSI2* Grand Prix.
Riding Waltons Top Flight, her own a 14 year-old bay gelding, Leonora was one of nineteen to jump in the first round. Putting in a strong performance she produced one of only two clear rounds delivered across the competition which resulted in a head to head jump off with Lili Hymowitz (USA).
Drawn first to go in the jump-off Leonora set the unbeatable target with a clear in 33.03 seconds to claim the win with Lili Hymowitz crossing the finish line in 33.58 seconds. Speaking after her win Leonora said "This my first international Grand Prix win and I'm delighted. I started with my horse at Foxhunter level six years ago and have worked towards this since then. To achieve this at such a special show like Monaco is like a dream come true".
Image Copyright Supplied by Leonora Smee