Junior and Senior Club 1.00m titles claimed at the NAF Five Star British Showjumping Championships
Monday 03 August 2020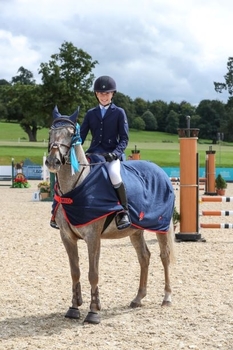 Junior and Senior Club 1.00m titles claimed at the NAF Five Star British Showjumping Championships
Cecile Mary Scarlet Skyes, aged 11 from Ascot, galloped her way round the jump off of the Junior Club 1.00m Final to claim the title at the NAF Five Star National Championships which started today and runs until the 11th August at Bolesworth in Cheshire today.
Riding Colours of Romeo, a 148cm appaloosa mare aged 13, she stopped the clock with just over ten seconds in hand to secure the championship title as her own. Her win put her ahead of the 90cm winner Siobhan Davies from Glastonbury who finished in 2nd and 3rd place respectively with Lyra and Song of Jerricho.
For the Senior Club 1.00m Final it was Ellie Gravell from Dyfed with her 17 year-old bay mare Red Sea Raven that took the win.
For full results https://bit.ly/3khHHVw
Image: Cecile Mary Scarlet Sykes and Colours of Romeo