Isabelle Thomas from Northamptonshire claims the first NAF Shining Star award of 2020
Friday 17 January 2020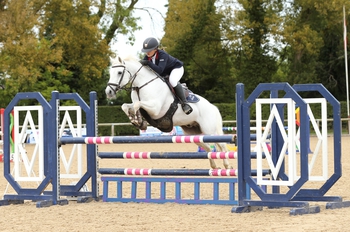 Fourteen year-old Isabelle Thomas from Kettering, Northamptonshire has claimed the first of the NAF Shining Star Awards of 2020 as she is awarded January's Shining Star. Izzy, who was nominated by Mia Palles Clark and Alison Tee, both coaches of the Northamptonshire and Cambridgeshire Academy, has been rewarded for the hard work and perseverance she has displayed over the last 12 months.
"It's visible to see the incredibly hard work that Izzy has put into producing her ponies both at home and at her Academy training sessions. Both Mia and I have been so impressed with Izzy's positive mental attitude and resilience and we feel she is totally worthy of being crowned the NAF Shining Star for January" said Alison.
After finding out she was the NAF Shining Star winner for January, Izzy said "I was surprised to be nominated for the award but I am over the moon to win! The ponies are giving me a great time on the junior circuit and I can't wait for the next two years with them. The Academy is really beneficial, it has helped with my riding as well as course walking, goal setting and warming up. The coaches are so supportive and patient. I have improved so much since joining the academy. In 2020 I want to keep having fun with my ponies as well as being consistent. I have qualified for a couple of Championship Shows and I would like to go to the National Championships in the summer."
Lisa Field from NAF commented "Congratulations Izzy, a very deserving winner of this month's Shining Star! It takes great determination and patience to keep riding and training. Izzy's commitment to her Academy training has clearly worked, helping her achieve such amazing results. Well done Izzy, we wish you all the best for 2020!"
Izzy will now receive a number of NAF equine products to use alongside the extensive products she is already using which include a range of shampoos and skin care products, linseed oil, enerG shots and minty treats!
The NAF Shining Star Award was introduced when NAF became a British Showjumping Business Partner. The award is for members of a Junior Academy who have shown a great deal of commitment, progression and outstanding behaviour along with their riding ability and much more. Riders are nominated by their lead coach, and then judged and awarded by NAF to one person each month.
NAF:
NAF is the most respected and trusted brand for supplements and applications for your horses in the UK today. Using proven ingredients and creating unique effective formulations NAF has an extensive portfolio of products designed to offer something for your horse's every need.
NAF are proud to be Official Suppliers to the British Equestrian Teams and Business Partners to British Showjumping supporting the NAF Five Star Training programme and the Shining Star Awards. Jessica Mendoza says "NAF have a great team of veterinary scientists and nutritionists, they are a big help to me and are there at the end of the phone with free advice if and when you need it, 0800 373106 or info@naf-uk.com."
Image Credit: Alison Parker Photography