Harry Charles wins the London 5* World Cup Qualifier
Sunday 19 December 2021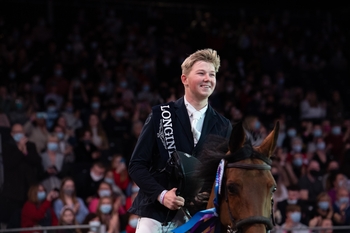 The London leg of the Longines FEI World Cup Qualifier didn't disappoint this afternoon at the ExCel arena when 22 year-old Harry Charles, from Alton in Hampshire, claimed the win after what was an incredibly exciting and hard fought jump-off and exactly twenty years after it was won by his father, London 2012 Team Gold medallist Peter Charles. The testing 1.60m course, set by Brazilian course designer Guillherme Jorge had seen thirty-five competitors come forward to tackle the questions asked of them and it was eleven of them that managed to achieve a clear and qualify for the jump off.
There were four fellow Brits that qualified for the jump off alongside Harry and those joining him were Tokyo 2020 Individual medallist Ben Maher, Matt Sampson, Jack Whitaker and the legendary John Whitaker. Jack, who was second to come forward, picked up 4 penalties when they touched a top rail to finish in eventual 8th place whilst John took an early lead on the 13 year-old bay gelding Unick du Francport. Stopping the clock in a time of 37.50 seconds, having posted an extremely smooth forward-paced clear in his inimitable style, he took an early lead achieving a standing ovation from the crowds as he exited the arena.
Next to go was Harrie Smolders (NED) and Monaco where a miss at the first saw the crowd draw breath when they took off a stride early to rattle the top pole but by fluke leave it standing. A very quick recovery saw them push on relentless and make time up on the clock to just edge John down a place by a fraction of a second. This left the remaining riders a time of 36.77 to beat and it looking clear that it wasn't going to be easy to do so. Ben, with his new ride Faltic, an 11 year-old bay stallion, looked incredibly strong as they wound their way round the course. However, a slight loss of footing as they turned back after a fence saw them lose time to return home clear in 38.74 seconds and a 5th place in the final line up.
It was Harry, who made his Olympic Games debut earlier this year in Tokyo, that absolutely set the arena alight when he entered with just two more riders to come forward. Riding the 11 year-old mare Stardust, owned by Princess Haya Bint Al Hussein, they made it clear from the outset that they were in it for the win. Riding forward without using an inch of ground that wasn't necessary they looked incredible throughout making it look absolutely effortless. A tight turn back and gallop to the last saw them clear the final obstacle, an oxer, at an angle saw them take almost a second off the time to stop the clock at 35.91 seconds.
The crowds were instantly back on their feet again applauding Harry who couldn't have looked more delighted. Grinning widely and with the packed grandstands still on their feet it was clear how much the double clear had meant to Harry. It was then a case of watching the final two riders to come forward but a fence down for Martin Fuchs and then 5 penalties for fellow Brit Matt Sampson saw Harry safe in the knowledge of his win.
Clearly emotional about the win Harry said during the presentation "I didn't watch anyone go before me, I know Stardust, she's so quick, she's got a great turn of foot and she's so careful so I had that advantage on my side. I did my own route and I was more than happy when I looked at the screen and saw I was in the lead. This is a bucket list thing, this show I've grown up watching every year and it's been one of my dreams to win the world Cup in London. I can't even begin to say what it means to win today. It's been quite a year, so much cool stuff has happened, I've had so many great opportunities and to come here and to finish out the year with this, my first World Cup 5* win, I couldn't ask for more than that".
John Whitaker said of his horse "He jumped great, I was a bit careful at the green double that caused some problems for a few, but it all went to plan" before adding tongue-in-cheek "basically I think I just need more experience!" which drew a laugh from those in the press conference. Of the move of the show to the ExCel from Olympia which is currently undergoing major refurbishments, John said "It's impossible to fault the show, it's so easy here, it's better for the horses, it's better for getting here, a bigger ring and the atmosphere is really good."
Harry, who has now climbed up 11 places into 2nd place on the World Cup ranking list, further said after the presentation "This is my career highlight that's for sure; it's my biggest win ever. She's [Stardust] still quite a new horse to me and we started our partnership at the start of the year at 1.40m's and this is only her third 5* Grand Prix. She's the biggest heart, she's got loads of blood and she's super super careful. She jumped the Geneva Grand Prix, which is one of the biggest in the world, fairly easily last week so I know if I did my job right we had a chance."
Full results here and World Cup Ranking List here