Harriet Biddick wins the Accumulator at HOYS
Saturday 09 October 2021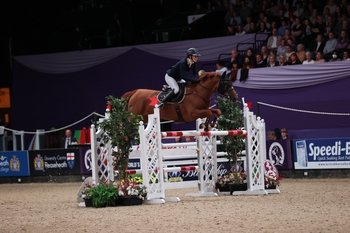 Somerset rider Harriet Biddick was in excellent form as she came out on top in the Accumulator class at Horse of the Year Show, NEC this afternoon.
Riding Night of Glory, an 11 year-old chestnut mare, they picked up the maximum score of 65 alongside four others from the field of twenty-eight starters. It was Harriet's incredibly fast time that stole the win for her when she crossed the line in 46.48 seconds, more than three seconds ahead of her closes rival Shane Breen (IRL) with Vistogrand.
The other two combinations to match her score were Oliver Fletcher with Garande and William Whitaker with Jalellah who took 3rd and 4th place respectively.
It was a delighted Harriet that said after the presentation "She's an amazing mare, I've had the ride on her for a couple of years now. Her owners are here to watch her from Old Lodge Stud and the atmosphere was amazing. She's been on really good form recently which I've been really happy with, I made a silly mistake on her yesterday and she had a really quick time so I thought today I really need to give her the win she deserves! "
Full results
For further information on Horse of the Year Show which runs until Sunday evening or for tickets visit www.hoys.co.uk