Great Britain dominate on Day Two at the London International Horse Show
Friday 17 December 2021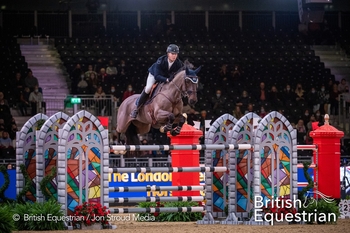 The opening CSI5* contest of the day was a two-phase competition whereby all those clear over the first seven fences went on to the second phase against the clock. The first to mount a challenge, Great Britain's John Whitaker, a legend of the sport, laid down the gauntlet as fifth to go, riding Green Grass. The 66-year-old demonstrated why he is still at the top of the sport, with an extremely tight and fast second phase, jumping clear in 27.16 seconds. Those who followed, failed to match Whitaker. Compatriot Sameh El Dahan aboard WKD Toronto came close, posting a time of 28.41 seconds to go into second, and Frenchman Mathieu Billot, as last to go, looked to put Whitaker's lead under threat, but could only manage enough for third.
The Champagne Taittinger Ivy Stakes was awarded to Great Britain's Tokyo 2020 Olympian, Harry Charles, riding Borsato. 10 combinations went forward to the jump-off, with Great Britain's talented young rider, Jack Whitaker paving the way. Whitaker meant business from the start, jumping an impressive clear in a time of 35.98 seconds to set the standard. Germany's Marcus Ehning survived a rub at the penultimate fence to take over pole position at the midway point, shaving 0.83 seconds off Whitaker's time, however it was Harry Charles who had the crowd on their feet as he made all the moves to take the lead with just three to go. Charles' target of 34.07 seconds proved impossible to beat, as those who followed, including yesterday's dual winner, Martin Fuchs, incurred penalties in their attempts to match the pace required.
A delighted Charles said: "I was actually quite shocked when I finished, as I didn't realise I was that much quicker than him [Marcus Ehning]. It's not every day you can be that much quicker than Marcus. I thought the jump-off went quite well, in places I thought I was a little bit unsteady, but it all worked out in the end and I'm absolutely delighted."
EQUESTRIAN TEAM GBR MEDAL PARADE
Ben Maher MBE and his Olympic gold medal-winning partner, Explosion W, led the celebratory medal parade featuring many of Great Britain's Olympic and Paralympic equestrian heroes. The parade provided fans with an opportunity to celebrate the exceptional performances from the summer, which also included a successful European Championships and Driving World Championship for Ponies. The medalists were joined in the arena by their owners and grooms, all pivotal to the successes achieved over the course of the year.
VIDEO OF THE DAY
Great Britain's rising star, Harry Charles, reflects on his victory in The Champagne Taittinger Ivy Stakes.
Lead image courtesy of Jon Stroud Media