GB's Team NAF win the Challenge Cup in Barcelona
Saturday 02 October 2021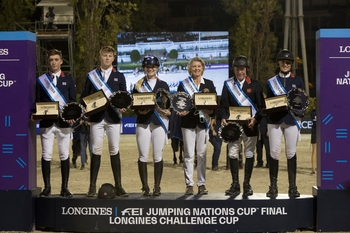 Great Britain, competing under the title sponsor banner of Team Naf, stood proud this evening when they won the Challenge Cup in Barcelona, Spain at the CSIO5* Longines Nations Cup Final show taking place between 1 – 3 October 2021 at the Fundacion Real Club de Polo de Barcelona.
Such was the strength of their performance that they won without having to call up their anchor rider when the team of three that had gone before him had posted two clears and a single fence penalty to be proven unbeatable. Safe in their knowledge of not only their victory but also their position in the top level of the Nations Cup series for 2022 it was an ecstatic World Class Performance Manager, Di Lampard, that stepped up onto the podium with her squad for the presentation.
For Italy, the evening could have definitely been better as they found themselves relegated from top level for next year to the EEF league whilst the Czech Republic step up.
British Performances – how they played out
Having narrowly missed out yesterday on qualifying for Sunday's Nations Cup Final, where the top eight team compete for the overall title, the Brits were drawn 4th to go against the remaining four nations of France, Italy, Norway and Switzerland. With all nations coming forward with a clean card there was all to play for and it was an incredibly hard fought competition with all the existing top level nations taking part determined to not be the one team relegated.
First rider forward for the Brits was Holly Smith from Loughborough, Leicestershire with Denver XI a 13 year-old bay gelding owned by Ian Dowie. A touch mid-course at an oxer saw them pick up 4 penalties in what was otherwise a faultless round with the former eventer turned showjumper Denver.
Emily Moffitt who is based between Evesham in Worcestershire and Florida, USA with Winning Good a 12 year-old bay gelding owned by Poden Farms certainly impressed when she posted the first clear of the entire competition. Their forward ridden round saw them put Great Britain strongly into a strong position when she stopped the clock on zero penalties and well within the time allowed.
Harry Charles from Alton, Hampshire with the 12 year-old bay stallion Romeo 88 owned by Ann Thompson had a lot to play for. His clear yesterday saw him the sole rider of the competition that was in contention for the €50,000 double clear bonus on offer for those that jumped clear in yesterdays first round and the Challenge Cup this evening. Making it look easy they pulled it out the bag by posting yet another stylish clear to come through the finish line with a zero penalty score and the full amount of the bonus pot richer.
With Harry's foot-perfect performance leaving Great Britain on just 4 penalties overall and their closest rival France sitting on 10 penalties when their final rider retired it was an outright win for Great Britain without a need for their fourth rider to come forward.
It was the globally renown John Whitaker MBE from Huddersfield, West Yorkshire with Unick Du Francpor, a 13 year-old bay gelding owned by himself and wife Clare Whitaker, that would have stepped forward in the role of anchor. Having John on a team is always iconic and having him at the Nations Cup Final show was no exception with riders from the other nations, not only his fellow team members, expressing how fantastic it was to have the chance to ride alongside him. For John it would have also been a very proud moment for him to be on the same squad as his nephew Jack Whitaker, from Whatton, Nottingham.
Talking after the presentation Di Lampard said "We were slow out the blocks on Day One, however they got their act together and were in a class of their own tonight and won in great style".
Tomorrow will see the final eight teams battle it out for the overall title. You can follow the competition as it happens by tuning in to www.clipmyhorse.tv or via the live results which can be found by visiting www.csiobarcelona.com
Full results here