First place for Tabitha Kyle in the Blue Chip Pony Newcomers Second Round at Wales & West Home Pony Show
Tuesday 02 August 2022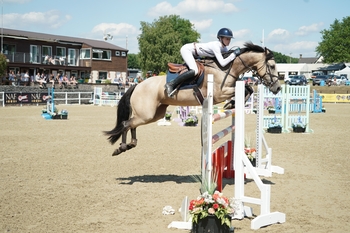 At Wales & West Home Pony Show, it was Tabitha Kyle, from Leicestershire, who won the Blue Chip Pony Newcomers Second Rounds, riding Tanya Kyle's Coppenagh Khaleesi.
70 eager combinations came forward in the first round, and with fences falling all throughout the course, just seven combinations jumped double clear for a spot in the final jump off. However, with nobody jumping clear in the final jump off, it would all come down to speed in order to secure a ticket to HOYS, and a quick clear round is what this combination produced. Tabitha piloted the 8 year-old dun mare across the finish line almost 2 seconds ahead of second place, stopping the clock at 36.88 seconds and securing this partnership the win.
Wales & West Shows – Friday 29th July 2022
Blue Chip Pony Newcomers Second Round
1st Tabitha Kyle & Coppenagh Khaleesi – 0/0/4 – 36.88 seconds
2nd Emily Irvine & Runard Lass – 0/0/4 – 38.57 seconds
3rd Fergal Holohan & Snow IV – 0/0/4 – 38.89 seconds
For the full results click here
For the list of qualified riders so far click here.
NB: Results pending official grading.
Image:
Blue Chip:
Blue Chip Feed Ltd produce the highest quality feed balancers and supplements available in the UK; there is a feed balancer for every stage in a horse's life to ensure optimum health and well-being. Blue Chip products are exported worldwide. For more information please visit www.bluechipfeed.com.