Fifth place for Team NAF in Praha (CZE)
Friday 17 June 2022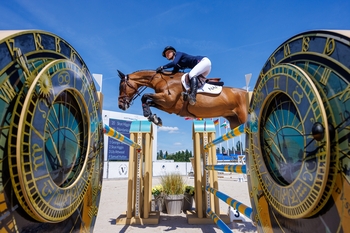 The Nations Cup competition took place at the CSIO3* at Praha in Czech Republic this afternoon. Thirteen nations came forward to tackle the twelve fence 1.50m course and Great Britain were drawn eighth to go in the first round. With an eventual total of 16 faults the team, riding under the title sponsor banner Team NAF, finished in fifth place.
Georgia Tame, from Horsham in West Sussex, took pathfinder position with the 9-year-old grey gelding Echo Van Spalbeek Z, owned by LG Training. The partnership got the competition off to a great start, posting a clear in the first round. A foot in the water and a lowered pole resulted in 8 faults in the second round.
Skye Higgin, from Normanie in France, made her debut on a team for Great Britain with the 9-year-old bay mare Djordania Du Tillard, owned by Bernadette Lejeune and they certainly showcased their talent with an impressive clear under significant pressure. Their first round saw just one unfortunate pole lowered.
Lily Attwood, from Aylesbury in Buckinghamshire, was next up with the 12-year-old chestnut mare Calvaros Up To Date, owned by Emily Freeman Attwood. The combination lowered just one pole in each round to add a score of 4 faults to the board on each occasion.
Anchor rider Samuel Hutton and the 11-year-old grey gelding Givinchi, owned by Ahmad El Naggar matched the score of teammate Lily as they rolled a pole in each round.
Netherlands and the home team, Czech Republic, both finished the second round on a score of 12 faults so a jump off was called to decide the winner. It was the Netherlands who left all fences untouched to take the victory and Czech Republic finished the jump off on 4 faults to place second. Third place went to Sweden who also finished on 16 faults, matching the score of Great Britain, but on a faster combined time across the two rounds.
Full results can be found here.
More photographs can be found here.