Fast track to victory for Harriet Nuttall
Saturday 05 October 2019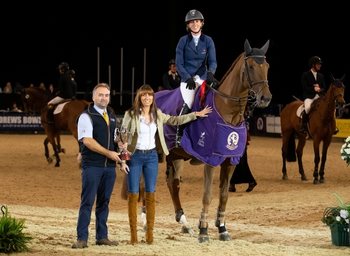 Harriet Nuttall secured her first ever international win at Horse of the Year Show in the Take Your Own Line class to round off a fabulous day of competition in the Andrews Bowen International Arena. Harriet who was crowned the 2019 British Showjumping Champion in August has been on fire this season and there is no stopping her yet. Riding the impressive 11-year-old chestnut gelding, Galway Bay Jed, Harriet was last to go in the jump off, having been the fastest of 12 combinations to jump clear in round one.
The class is an international competition which tests the riders' skill and ingenuity. The first round is a set route which then permits all clear rounds through to the Take Your Own Line jump off, where they must jump seven fences, including one double, in the quickest time. The class allows horse and rider combinations to plot their own route to play to the horse's strength and individual style.
There were several different routes attempted and Robert Whitaker took the lead early on in a time of 23.13 seconds riding Catwalk IV. A few riders were hot on his heels trying the same route and times were tight with each rider showing their competitive edge. Harriet was last to go giving her plenty of time to plot her way and she did not disappoint. Taking a completely new line, Harriet showed everyone how it should be done as she landed from the last fence to a roar of applause to finish in 23.03 seconds – one tenth of a second quicker than Robert. Not only does Harriet take the £5,750 prize money, but she also picks up Longines World Ranking points.
"I'm absolutely speechless!" exclaimed Harriet. "It's my first time competing in the international classes here at HOYS and to come here and win is just incredible. Jed seems to like jumping indoors. I thought that going last would be a good thing, but instead I got quite confused watching the other riders' lines and was contemplating taking the same route as Robert. In the end I decided to stick to my guns and if it worked it worked, and if it didn't it didn't. Luckily it did! It's surreal to be honest; I've watched Horse of the Year Show since I was tiny and I've competed here fairly unsuccessfully on ponies, so this year is certainly going a lot better. I'm going to be saving him [Jed] now for the Grand Prix on Sunday night."
Listen to Harriet Nuttall's interview here courtesy of LloydBell Productions:
http://www.lloydbell.co.uk/access/client_zone/HOYS19_Nuttall_International_winner_Friday.mp3