Erin McGee claims first place in the NAF Five Star Bronze League Qualifier at Muirmill Equestrian Centre
Tuesday 10 May 2022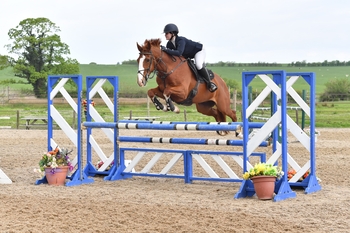 With the fastest triple clear of the class, Erin McGee from Kilmarnock, East Ayrshire claimed first place in the NAF Five Star Bronze League Qualifier which took place at Muirmill Equestrian Centre on Sunday.
Riding Maureen Pollock's 13 year-old chestnut gelding Loughahoe Henry, Erin was one of seven riders to take up a spot in the final jump off from a starting field of thirty combinations. With her eyes firmly on the red rosette, Erin was able to produce the winning triple clear in 40.75 seconds, over 8 seconds faster than her closest rival.
Muirmill Equestrian Centre – Sunday 8th May 2022
NAF Five Star Bronze League Qualifier
1st Erin McGee & Loughahoe Henry – 0/0/0 – 40.75 seconds
2nd Marion Brown & Clarity S – 0/0/0 – 49.08 seconds
3rd Iona Drummond & Hold Up Princess – 0/0/4 – 55.23 seconds
For the full results click here
For the list of qualified riders so far click here.
NB: Results pending official grading.
Image: Equiscot Photography - www.equiscot.com
NAF Five Star:
NAF's premium range of Five Star brands include Superflex, Superflex Senior, PROFEET, Optimum, Magic, Oestress and Respirator Boost with quality at the heart of everything they do. They are a UFAS (Universal Feed Assurance Scheme), GMP+ (International Feed Assurance Scheme) and BETA NOPS (Naturally Occuring Prohibited Substances) accredited company and this enables them to guarantee full traceability on all the natural ingredients they utilise in their formulations, which are also selected in compliance with the FEI guidelines for Clean Sport. For further information, visit www.naf-equine.eu/uk/index.jsp.