Erin Bartle from Mid Glamorgan is November's NAF Shining Star
Thursday 06 January 2022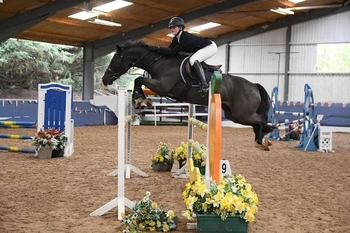 Fifteen year-old Erin Bartle from Bridgend, Mid Glamorgan has been awarded the NAF Shining Star for November. Erin recently took the ride on a friend's pony Aberhendre Jacydo a fourteen year-old black gelding and has shown great determination and hard work which led coach Candice Williams to nominate her.
"Having not competed ponies for nearly a year, Erin took the ride on Jac in September. Since then Erin has qualified for Blue Chip Sapphire, Blue Chip Coral, Blue Chip Sparkle, Discovery second rounds, Newcomer second rounds and Members Cup second rounds and was also selected for the Welsh Home Pony Debut team showing great dedication and team spirit," commented Candice.
After finding out she was the winner of November's NAF Shining Star, an excited Erin said "'I'm really surprised, it's fantastic to win and to be recognised for all the hard work and time I have put into my riding.
I was asked to ride Jac for a friend and we have achieved so much. I would like to thank everyone who helps me, Candice Williams for coaching me, Helen Jenkins for giving me the ride on Jac and my parents for their support and encouragement.
I moved onto horses a couple of years ago, so being able to ride both ponies and horses has been a great experience, taught me a lot and has been great fun"
Lisa Field from NAF added "It is wonderful to see Erin's hard work and commitment rewarded with her ride Jac qualifying for various second round competitions. To also get selected for the Home Pony International team event is a great achievement and makes Erin a worthy winner of this month's NAF Shining Star, congratulations!"
The NAF Shining Star Award was introduced when NAF became a British Showjumping Business Partner. The award is for members of a Junior Academy who have shown a great deal of commitment, progression, and outstanding behaviour along with their riding ability and much more. Riders are nominated by their lead coach, and then judged and awarded by NAF to one person each month.
NAF:
NAF is the most respected and trusted brand for supplements and applications for your horses in the UK today. Using proven ingredients and creating unique effective formulations NAF has an extensive portfolio of products designed to offer something for your horse's every need.
NAF are proud to be Official Suppliers to the British Equestrian Teams and Business Partners to British Showjumping supporting the NAF Five Star Training programme and the Shining Star Awards. Jessica Mendoza says "NAF have a great team of veterinary scientists and nutritionists, they are a big help to me and are there at the end of the phone with free advice if and when you need it, 0800 373106 or info@naf-uk.com."