Emmie Horner from Somerset is May's NAF Shining Star
Thursday 10 June 2021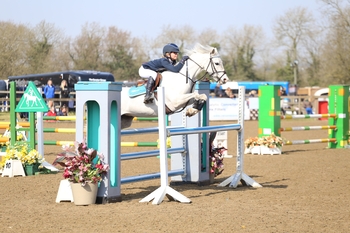 Emmie Horner has been awarded the NAF Shining Star for May after showing great style and dedication on her ponies which led coach Jayne Smart to nominate her for the award.
Ten year-old Emmie from Bristol, Somerset has shown great enthusiasm and is a joy to have in the Bristol and North Somerset academy.
"Emmie is a lovely girl; she rides her ponies with style and panache and is as gutsy and competitive as you would ever meet. She loves her ponies and works really hard and is as gracious in defeat as she is happy in success, in a manner way beyond her years," commented Jayne. "She has worked hard with the green ponies she has had and has stuck with them through tough, difficult times without ever losing the smile from her face. Emmie is a great team member and friends with everyone and is very rewarding to coach as she tries so hard. I should have nominated her months ago!"
After finding out she was the winner of May's NAF Shining Star, Emmie said "I was very happy when Jayne said that she had nominated me for the NAF shining star award and I honestly never expected to win! I'm excited to be out competing again and I think the ponies are glad too as they have been jumping so well for me and I've had some really good results so far this year. I enjoy being part of academy and have made some good friends and I've really enjoyed taking part in the team competition's, especially the one at Bolesworth when we won team silver"
Lisa Field from NAF added "It is lovely to hear about Emmie and her passion for the sport, her ponies and a valued team member and friends with all at the academy. We very much look forward to following her progress throughout 2021 and beyond. Congratulations Emmie, a worthy winner of this month's NAF Shining Star!"
The NAF Shining Star Award was introduced when NAF became a British Showjumping Business Partner. The award is for members of a Junior Academy who have shown a great deal of commitment, progression, and outstanding behaviour along with their riding ability and much more. Riders are nominated by their lead coach, and then judged and awarded by NAF to one person each month.
Image courtesy of Landscapes and Horses - www.landscapesandhorses.co.uk