Emma-Jo Slater wins SEIB Winter Novice Qualifier at Arena UK
Monday 06 December 2021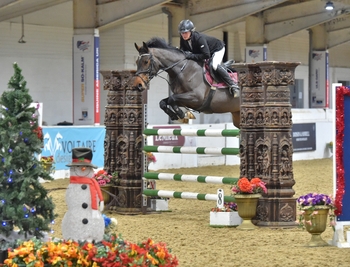 On Sunday, Arena UK played host to the third SEIB Winter Novice Qualifier during their Winter Classic and it was Emma-Jo Slater from High Wycombe, Buckinghamshire who claimed the top spot riding the 5 year old bay mare Kimba Time owned by Kim Barzilay.
A large starting field of fifty seven combinations came forward to tackle the course designed by Mark McGowan with twenty eight going on to navigate a first round clear. Twelve went on to produce a double clear and putting her foot on the gas, Emma-Jo stopped the clock in 36.48 seconds to take the win. Georgina Kidner and Oakland Eclipse were close on their heels crossing the finish line in 37.28 seconds to take the runners up spot.
Arena UK – Sunday 5th December 2021
SEIB Winter Novice Qualifier Results
1st Emma-Jo Slater and Kimba Time – 0/0 – 36.48 seconds
2nd Georgina Kidner and Oakland Eclipse – 0/0 – 37.28 seconds
3rd Hannah Barker & Galaxy V – 0/0 – 37.63 seconds
For the full results, click here and for the list of qualified riders so far, click here.
NB: Results pending official grading.
Image Credit - Equipics