Emily Llewellyn wins the Equitop GLME Senior Foxhunter Second Round at Pyecombe Horse Show
Monday 07 June 2021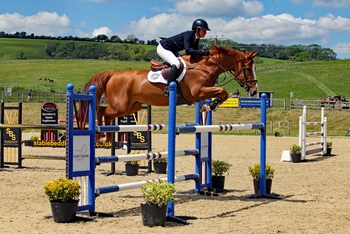 Pyecombe Horse Show played host to this week's Equitop GLME Senior Foxhunter Second Round on Saturday, and it was Emily Llewllyn who claimed the win on board her own 10 year-old gelding Trooper B.
From a starting field of sixty-two, Emily from Godalming, Surrey kept a cool head to make it through to the final jump off along with eleven other talented combinations. Putting her foot firmly on the accelerator, this partnership crossed the finish line with a triple clear in 33.31 seconds.
Pyecomeb Horse Show – Saturday 5th June 2021
Equitop GLME Senior Foxhunter Second Round
1st Emily Llewellyn & Trooper B – 0/0/0 – 33.31 seconds
2nd Charlene Bastone & Billy Pringle – 0/0/0 – 33.78 seconds
3rd Ronnie Jones & Joplin I – 0/0/0 – 34.58 seconds
For the full results click here
For the list of qualified riders so far, click here.
NB: Results pending official grading.
Image: Emily Llewellyn & Trooper B at Pyecome Horse Show on Saturday (Credit: Spidge Event Photography)
Equitop® GLME is a unique joint supplement specifically designed to support healthy joint function in horses. From the moment horses reach skeletal maturity, the normal ageing process kicks in and ongoing joint wear and tear is a key consideration for all owners. This is particularly important for horses in moderate to hard work, as every time they are exercised they will be encountering stresses and strains. Containing sustainably harvested Green Lipped Mussel Extract (GLME) from New Zealand, Equitop® GLME offers ingredients that support your horse's joint health and soundness. https://www.equitop.co.uk/