Danielle Ryder & Sam van de Tojopehoeve Z win the Lord & Lady Equestrian Senior Newcomers Championship
Sunday 11 October 2020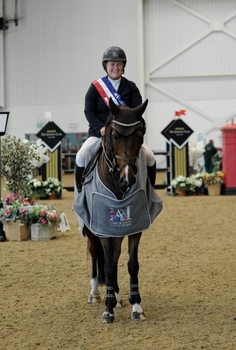 This afternoon saw the culmination of one of most contested series on the national circuit, the Lord & Lady Equestrian Senior Newcomers Championship, and it was Danielle Ryder from Preston, Lancashire riding her own Sam van de Tojopehoeve Z (Spartacus x Quasimodo Z) that took the honours.
Thirteen combinations jumped clear in the first round from a starting field of thirty-four with only three of them managing to go on and post a double clear. The jump-off course, designed by Mark McGowan, was a winding one with a final right rein push to a vertical set on the short edge that almost dared the riders to run long and take a stride out to it. It was here where many hopes were heartbreakingly dashed when, having jumped clear up until that point, they touched one of the front or back poles on the oxer to pick up penalties just before the finish line.
Producing the first clear of the jump off in a time of 36.61 seconds, it was a waiting game for Danielle and the 8 year-old bay gelding Sam, as he is known at home. Despite two further clears being achieved, neither were able to get near their time which saw Danielle hold on to her early lead with James Smith and Joyride CMS taking 2nd with their time of 38.42 seconds and Gemma Chapman and I Luna L taking 3rd in a time of 41.99 seconds. It was Charlie Dawson and Iloma that took 4th as the fastest on 4 faults with Chantelle Duggan and Linton de la Chapelle taking 5th and Jessica Botham on Fairmont III in 6th.
Talking afterwards Danielle said "John Ledingham had told me about the horse so I went to see him and I bought him from Charlotte Hutchinson who had had him from a 4 year-old. He wouldn't have a lot of experience at 1.40m so it was quite a big question that was asked of him yesterday in the Foxhunter Final [they finished 2nd] and stepping back down for the Newcomers Final has worked well for him"
About Sam in particular she said "He is such a careful horse and he's very competitive so I think it's easy when you have one that's like him and wants to win. He's beginning to learn to be a bit more rideable in a smaller arena – this was the first test for that and I think he will get even better as he gets more experience in championship arenas."
The British Showjumping Indoor Championships runs between the 7 – 11 October at Aintree Equestrian Centre with a number of the major British Showjumping national titles being run across the event. Further information on the show can be found at www.aintreeequestriancentre.org and livestream from the event is available at www.britishequestriansport.tv powered by Clip My Horse TV.
RESULTS:
1. Danielle Ryder / Sam vd Tojopehoeve Z (0/0 36.61)
2. James Smith / Joyride CMS (0/0 38.42)
3. Gemma Chapman / I Luna L (0/0 41.99)
4. Charlie Dawson / Iloma (0/4 35.42)
5. Chantelle Duggan / Linton de la Chapelle (0/4 36.40)
6. Jessica Botham / Fairmont III (0/4 37.85)
Lord & Lady Equestrian:
Lord & Lady Equestrian is a new British brand of equestrian clothing. We design and make stylish competition and performance wear in our Nottingham based factories. Our rider wear quality is of the highest standard and performance is second to none. On trend design merged with premium technical fabrics that are made by our team of manufacturing professionals ensures you ride in comfort and class. Visit www.lordandladyequestrian.com.