Clifton College are the Just for Schools 80cm Final Champions
Monday 03 August 2020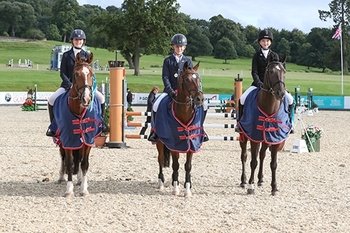 The trip up from Bristol to the NAF Five Star British Showjumping Championships at Bolesworth proved fruitful for the trio of riders representing Clifton College in the Just for Schools 80cm Finals this afternoon.
Finishing on a zero penalty score at the end of two rounds riders Will Brown with Rosewater Manchineel, Catherine Collins with City Image and Emily Hall riding Black Magic Lad couldn't have been happier. Their faultless rounds saw them outright winners ahead of the Moreton Hall Magic Stars team and Norwich High School who settled on joint 2nd with a score of 4 penalties each.
Moreton Hall had also forwarded a second 'All Stars' team who finished in 4th place just once fence behind on 8 penalties.
The Championships run between 3 – 11 August at Bolesworth and further information on the show can be found by visiting here https://bit.ly/33o7Uvj
For full results https://online.equipe.com/en/class_sections/514943