British Showjumping Office – 2021 Christmas Closure
Thursday 23 December 2021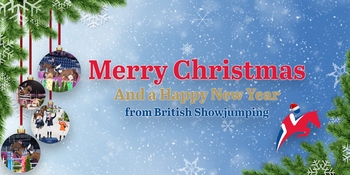 The British Showjumping office will be closed from 12:00pm on Friday 24 December 2021 and will reopen at 9am on Tuesday 4 January 2022. The website and Members Online area will still be available for those wishing to purchase tickets, join or amend their membership details and the online calendar will give up-to-date information as we have it with regards to any shows taking place during this period.
In the case of an emergency, should you need to contact British Showjumping during this period, please email sportteam@britishshowjumping.co.uk.
Finally, we would like to take this opportunity to thank our members for their support during 2021 and wish you all a Merry Christmas and a Happy New Year.