British Showjumping National Championships – Tuesday Roundup
Tuesday 02 August 2022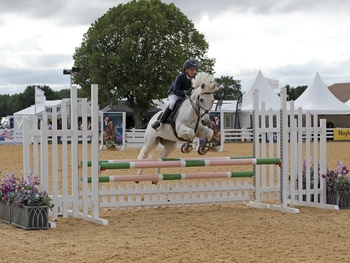 Kicking things off in the UNIBED Championship Arena 2 today was the Pony Restricted Rider 1.00m Championship Final. The champion title went to Kent based, Ellie Lambourne riding 12 year old Oakwood Daisy. Ellie commented "She was really good, I'm so lucky to have her, I wouldn't be able to do it without my mum either. When I was going into the arena, I was just focused on winning! I'm hoping to do English Home Pony and hopefully by the end of the year will be jumping 1.20m".

Over in Bucas Championship Arena 1, the Pony Bronze League 148cm & Under Final took place. Windsor based Emmy Giannotta was crowned champion with the 15 year old Westcoast Express, commonly known as 'Westcoast' at home: "Although I felt quite nervous going into the arena, she was such a good girl. I just want to enjoy the rest of the season and make the most of it because this will be my last season competing Westcoast" Emmy explains.

Lanarkshire based Michael Mccolm took first in the National Pony 1.15m Members Cup Final with 13 year old AG Dynamo, stable name 'Tommy'. Michael has only been riding him for 6 months so this was an amazing achievement in a short space of time. "So far this season I've won a couple of good classes, I plan to keep doing what I've been doing and I'm excited for future plans" says Michael.

Ellie Koscinska and Ganty Wills Girl based in North Wales, conquered the Pony Silver League 148cm & Under Final with a clear round in a fantastic time of 30.33. "The pony is owned by Carole Jones, I've got her until the end of my pony years! She's a lovely sweet mare, a really good jumper; she loves a good jump!" Ellie continued, "it's been a really busy summer season so far, we've jumped pretty much everywhere. We've just come home from the Royal International, where we had two poles but a beautiful round. I think the pony deserves a good rest after all the amazing work but I'm looking forward to being back out in the winter."

London based Noora Von Bulow, riding 18 year old Elando Van De Roshoeve claimed the win in the National 148cm Championship Final. "He's been doing well recently, and he won at the London International Horse Show. I was really proud of him today. I was a bit nervous considering it's such a big event, but he did so well" explained Noora.

The last class of the day in UNIBED Championship Arena 2 was the Pony Bronze League 138cm & Under Final, when Herefordshire based Florence Moseley riding Bressie was crowned the winner. Florence commented: "I felt nervous and excited going into the arena, I've only had him 8 weeks! My pony is known as Frosty at home. I'm hoping to compete in the Silver League throughout the winter."

Bucas Championship Arena 1 concluded with the Pony Bronze League 128cm Final. The winner was Lexie Lane riding 17 year old Derrymore Lucky Lad. Known as 'Lucky' at home. "I was a bit nervous, but I got told I could beat the time, and I have enough faith in the pony to let it go" Lexie said. "So far my season has been pretty good, I jumped the Spring Board Final, and I'm doing the Silver League tomorrow. For the rest of the season I'm going to get more training, and finally, go to HOYS and cheer all my friends on!" Lexie continued.

For the full results list from Tuesday 2nd August please click here.

Come along to support
Competitors and spectators alike are guaranteed a fabulous day out with exciting competition, outdoor performances, hospitality, and a retail shopping village.
Entry for spectators wishing to take advantage of this fantastic show is free. Find out more on https://bsnationalchampionships.co.uk/
Watch live
The show will be available to watch on livestream if you are not able to make it in person, visit http://www.britishequestriansport.tv/, powered by ClipMyHorse.TV
The British Showjumping Just For Schools, Club and Academy Championships will be running directly after the British Showjumping National Championships from 07 August 2022 - 09 August 2022. Visit our Championship hub page to view lots of useful information.
Photo info: Florence Moseley and Bressie, winners of Pony Bronze League 138cm & Under Final (C) 1st Class Images.