Brilliant Brash Brings It Home
Sunday 19 December 2021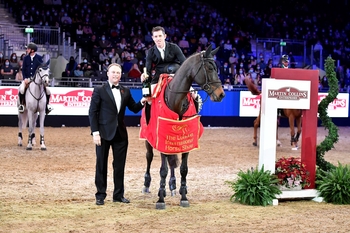 The Martin Collins Enterprises Christmas Tree Stakes was run under a unique format whereby the 25 competitors were drawn into six groups. The winner of each group, based on faults and time, went through to a final jump-off, accompanied by the two fastest losers across all groups.
As the only clears in Group 1 and 2, Ireland's Denis Lynch and in-form Harry Charles won the first automatic qualification places to the jump-off. The Irishman Shane Breen was the next to join them, winning Group 3 outright, again as the only clear. Group 4 was a close affair, with Angelie von Essen, Gregory Wathelet and Kevin Staut all jumping clear within 0.4 seconds of each other. However Sweden's von Essen won the battle for automatic qualification, with Wathelet going through as one of the fastest losers.
Group 5 saw compatriots Scott Brash and Guy Williams pitted together, both pulling out excellent performances to jump fast clear rounds, however it was Brash who came out on top to go straight through to the jump-off. Williams' time, however, was quick enough to secure a place as a fastest loser. Great Britain's Matthew Sampson took the final automatic place, winning Group 6.
As first to go in the jump-off, Breen set the standard with a clear in an impressive time of 40.13 seconds. Wathelet and von Essen followed, both incurring faults trying to catch Breen's target, however Sampson came out meaning business, absolutely flying round the course to take over pole position.
Sampson's lead did not last long, as Harry Charles, fresh from victory in The Longines FEI Jumping World CupTM this afternoon, followed him into the arena and put on a foot perfect performance to go into first place. The lead changed once again as last to go, Scott Brash, pulled off an exceptionally tight turn to the vertical at number four and a frantic charge to the last, and shaved 0.14 seconds of Charles' time to take his inaugural victory at this year's London International Horse Show.
Speaking of his victory aboard Lady Harris & Lady Kirkham's Hello Mr President, Brash said: "Hello Mr President is a very fast horse, which makes my life a bit easier. Harry has won enough today, he needs to give the old ones a chance again! The crowd is what makes this show, and they were absolutely fantastic again tonight. The organisers have done a brilliant job, we jump all around the world, all year round, so to finish off in London with your home crowd, to get a win is extra special."
The 128cm ponies had the crowd behind them in The Equine Rescue Services Mini Stakes, as one after the other they put their foot to the boards in a scintillating display of speed and agility. Five combinations went through to the jump-off, but it was Cate Kerr riding Dunbarover who came out on top, 0.33 faster than Hollie Gerken with Black Jack III in second.
The ecstatic 12-year-old exclaimed: "It's amazing, to win here is like a dream. I knew that everyone wanted to win, but I just wanted to win a bit more! My pony is just amazing, the jump-off course suited him quite well so I just went for it. This is the best Christmas present I could ever have!"
Later in the day, their 148cm counterparts took centre stage in The Voltaire Design Mini Stakes. Nine of the 13 starters made it through to the jump-off, setting up for an entertaining show down. Of the three double clears, Noora von Bulow riding Elando van de Roshoeve came out on top with an exceptional round in the time of 24.89 seconds, ahead of Phoebe Farman in second and Lauren Caroline back in third. The win capped off an exceptional year for 13-year-old von Bulow, who also won the Children's Grand Prix at the FEI Jumping Nations Cup Youth Finals show in Kronenberg, The Netherlands earlier this year.