AN ONLINE AUCTION WITH A DIFFERENCE
Thursday 24 September 2020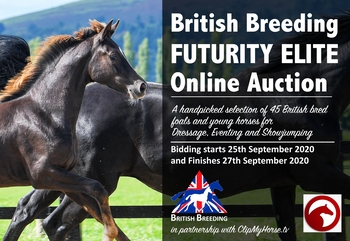 British Breeding Launch the First Futurity Elite Online Auction
This year is the first time that British Breeding is to carry out an auction of Futurity Elite youngstock.
Unlike studbook or private auctions, the Futurity Elite Online Auction drew on around 400 Futurity entries this year to create a selection of 41 exceptional lots with superb pedigrees, but above all with the highly respected seal of approval that comes from achieving a Gold or even an Elite Premium at the BB Baileys Horse Feeds Futurity Evaluations. An exciting selection are bred for showjumping and will go under the hammer 25-27 September. A preview webinar of the showjumping entries will take place on Thursday 24th September at 7pm.
Says British Breeding Director Jane Marson:
"The Futurity qualification is what makes the Futurity Elite Online Auction unique: Buyers can bid with confidence, in the knowledge that every young horse or foal for sale has been through a rigorous assessment by a highly experienced, independent international team of evaluators, as well as by our head veterinarian and nutritionist, ensuring that our collection is of the highest quality, with strong emphasis on ability, performance, conformation and soundness. On top of the virtual evaluation, all the foals and young horses have been physically vetted and full reports are available on the auction listings. The 2 and 3 year olds have also had rigorous x-rays and these are available to be viewed on request from potential buyers' vets."
We have a selection of 41 of the best progeny available in the UK for sale via online auction from 25-27th September 2020. They are divided into disciplines with the order being oldest first and then in alphabetical order of the dam's sire. A pre-view catalogue is available on the British Breeding website which links to each horse's futurity result, full pedigree and further information. This is available at;-
https://british-breeding.com/events/futurity-2020-virtual-evaluations/elite-futurity-auction
The auction website is now live with bidding starting from the morning of the 25th and ending in the evening of the 27th. Each lot is staggered by 5minutes and we start with the Dressage horses, then the Eventers and finish with the Showjumpers. We have partnered with Clipmyhorse.tv who run the GRAND PRIX SALES auctions among others and the auction will be live on https://auctions.clipmyhorse.tv/en/auctions. Registration to bid is very easy, so please do register before the end of the bidding period.
We have an absolutely top class group of showjumping youngsters which is made up of two yearlings along with some stunning foals. The line up of sires of these youngsters reads like a who's who of Showjumping stallions including two Olympic stallions; Casallco, Silvester, Je T'aime Flamenco, Christian 25, Fabrice van Overis Z, Caretino Glory, Billy Um Bongo, Contendro I, Escape Z and Cassionato.

The section starts with a super yearling colt, Conco, by Casslco out of a Concorde mare. He is then followed by the stunning dark grey yearling filly by the well know Carthago stallion, Silvester. We then move onto the foals, well what a line up, starting with Springtime Flamenco, a super Je T'aime Flamenco colt, then on with one after another of the 8 foals offering superb sire and damline pedigrees that are bred to jump. We even have a 'Captain Tom', a lockdown foal born just after Sir Captain Tom's 100th, who Is by Contendro I out of a Lux mare.
'We really could not have hoped for a stronger line up for the first ever Futurity Elite Auction of future showjumping stars. It is a real opportunity for buyers to secure a future star' says Jane Marson, Director of British Breeding
The Preview catalogue is currently available at:
https://british-breeding.com/events/futurity-2020-virtual-evaluations/elite-futurity-auction
Register for the preview webinar on Thursday at 7pm at https://us02web.zoom.us/webinar/register/WN_-woyrGiIRMuO7RfRBpvusg
The auction is at https://auctions.clipmyhorse.tv/en/auctions
The AUCTION starts on Friday 25th September and ends on Sunday 27th September from 6pm.