Emma Crawford dominates the UNIBED – High Performance Equine Bedding Winter Grades B&C qualifier at Morris Equestrian Centre
Monday 20 November 2023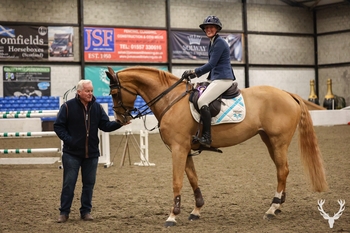 Emma Crawford lifted the top two places in the UNIBED – High Performance Equine Bedding Winter Grades B and C with Cliftons Adelaide and King Louie III at Morris Equestrian Centre, securing two coveted Hickstead tickets to the Royal International Horse Show in one fell swoop.
Nineteen competitors came forward to face course-designer John Bedford's 12-fence 1.35m track with five conjuring up all the correct answers to access the jump-off, the on-form Emma claiming two of them.
Fife-based Emma, 23, claimed an early lead on King Louie III but used her final draw with Cliftons Adelaide to maximum effect to win by 0.73 seconds.
"The pressure was off as last to go, I knew I'd qualified at least one horse as I was already in the lead. It made me more relaxed and probably why I won with Adelaide," said Emma, who has ridden Alex Brewster's SIEC Atlas x Landor S 8-year-old mare since March.
"[Fellow showjumper] Douglas Duffin recommended me as a rider which is so lovely from one rider to another. And I think he's right, we've clicked and gelled together," said Emma. "She's the sweetest, kindest mare and not at all grumpy – she's my Mum's favourite, she loves the ones that are easiest to work with – and Adelaide loves a cuddle; I think she stalls you putting the tack on just for a cuddle!
"In the ring, she's altogether different; very hot and gets uptight but she knows her job and wants me to get her at those fences. She's the bravest horse I've ever ridden, a real trier who throws her heart over the fence then goes to catch it."
King Louie, a Zacarov x Lansing 8-year-old owned jointly with John and Anne Grieve, was acquired in March locally in Scotland from a friend.
"He's a lot less experienced than Adelaide although they're the same age. I was looking for another young horse and I've always liked him so, after watching him jump a 1.30m class, I tried my luck and messaged her. She said she'd consider selling him and it was a 'Pinch me' moment, the next thing he was in my stable," said Emma. "He's the cheekiest character I've ever met, his character overflows out of him and I have trouble containing it but he has us laughing all the time and has earned his stable name 'Monkey'. But he has the scope, bravery, ability, athleticism and a great brain – I have big hopes for him."
Emma was pleased both owners had managed to attend the show to watch their horses.
"It's so nice for John and Anne to have a good horse they can follow at the shows. Alex doesn't often get to shows and this one was touch and go as he had a puncture on the way, but he just made it in time to watch – it was very special having both owners there when we did so well."
Morris Equestrian Centre
UNIBED – High Performance Equine Bedding Winter Grades B&C qualifier – 19 November, 2023
1st Emma Crawford & Cliftons Adelaide – 0/0 - 34.03 seconds
2nd Emma Crawford & King Louie III – 0/0 - 34.76 seconds
3rd Rachel Williamson & Jaytana – 0/0 - 35.35 seconds
NB: Results pending official grading.
Image: Jamie Agnew Photography
UNIBED - High Performance Equine Bedding are a family run bedding manufacturer and retailer, based in North Yorkshire.
With welfare, efficiency and providing 5* customer service at the core of what they do, UNIBED is committed to providing their customers with the high quality, chopped and dust extracted straw bedding solutions all whilst offering a fair price.

With pricing options to suit all budgets, customers will continue to receive a product that ticks every box from ease of use to making better choices for the environment.

Visit the UNIBED website www.unibedbedding.co.uk for more information or to place an order today.