Dodson & Horrell National Amateur Second Rounds at Scottish National Equestrian Centre
Monday 11 October 2021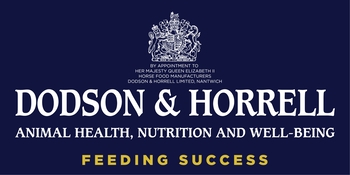 The fifth show centre to hold the Dodson & Horrell National Amateur Second Rounds was the Scottish National Equestrian Centre in West Lothian. Qualifying tickets for the 85cm, 95cm, 1.05m and 1.10m National Amateur Finals at the Dodson & Horrell National Amateur Championships at Aintree Equestrian Centre in Liverpool were on offer. The Championship show runs between the 9 – 14 November and draws high numbers all hoping to win the respective championship title they have been targeting.
A strong field of competitors came forward to take on the 85cm Second Round and Neil Foster's eleven fence first round track with high hopes of gaining a qualifying ticket to the finals. Fourteen of those starting combinations managed to keep a clean sheet in the first round and it was all to play for.
Megan Cowan from Lanark clinched the top spot with Kellie Cowan's Tullycars Peek a Boo a 16 year-old bay mare, crossing the line in 33.39 seconds over three seconds ahead of the rest of the field. Taking the runner up spot was Linda Ramsoy and Hinkelien on 37.48 seconds.
A challenging track was set for the 95cm Second Round which saw ten combinations accomplish a first round clear with six of those going on to remain faultless in the jump-off. Ayrshire based Marion Brown navigated her own 13 year-old bay gelding, Abacus II to victory with a double clear in a time of 35.27 seconds. Close on their heels was Julie Mcainsh and Lady Elsinore who crossed the line in 35.34 seconds.
Thirteen combinations from the initial starting field produced a first clear round across the 1.05m track. FalKirk's Emma Woods and Jonathan Woods Moonlight Van De Korteweg, a 9 year-old grey gelding took the top spot crossing the finish lane in 31.11 seconds. Close behind and putting their foot on the accelerator was Isla Stewart and Hazel Hiram Clyntara II on 32.04 seconds.
Just over half of the initial starters went through to the final jump-off of the day in the 1.10m and just two went on to retain their zero penalty score. Regan Mchardy took the win on his own 8 year-old bay mare Lady Macbeth Z riding tight lines to cross the finish line on 38.50 seconds. Avril Johnston and Ella Rosa MFS had to settle for the runners up spot finishing in 39.16 seconds.
Eight qualifying tickets are given for each of the four classes which are allocated once official grading has been completed. Those qualified for the championships in their specific height category can be found here.
Dodson & Horrell:
Dodson & Horrell has been leading the way in equine nutrition for over 80 years, pioneering manufacturing methods and promoting nutritional research to ensure your horse receives optimal nutrition.
Dodson & Horrell has a team of experienced and knowledgeable equine nutritionists and vets who are on hand if you need any feeding advice. Call the Dodson & Horrell Helpline on 01270 782223 or visit the website www.dodsonandhorrell.com to use the Live Chat or email helplineenquiries@dodsonandhorrell.com