Adam Taylor secures his Hickstead place in the UNIBED – High Performance Equine Bedding Winter B and C Final at Arena UK
Monday 20 November 2023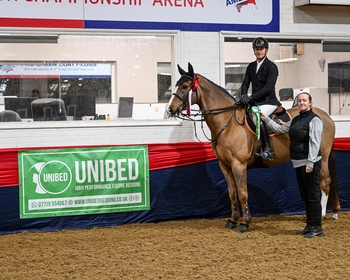 Adam Taylor jumped to victory in the UNIBED – High Performance Equine Bedding Winter B and C Qualifier at Arena UK in Grantham, Lincolnshire, with Gangster II.
"He's my 'heart' horse; he came in as a sales livery and I fell in love and kept him," said Adam.
Ten of the original 16 competitors supplied initial clear rounds over the 1.35m course to make their way into the jump-off, Adam finding the shortest route on Gangster to comfortably take the top spot by almost two seconds.
"It was our first time in this class and the first time we've really had a go against the clock. It was a good course, up-to-height and there was enough in the jump-off for me to go for it. We've been learning together going up the grades and we did our first 1.45m at the Great Yorkshire Show in the summer," said Adam, who finds the Dutch-bred 12-year-old is Gangster by name and nature.
"He is a bit of a gangster; at our first show in the warm-up he spun round and left me on the floor – he doesn't like horses coming at him and he'll have a bit of a bronc but it's all in a fun way. He has a lovely personality and genuinely loves his job jumping and we have a great bond."
Adam admits he wouldn't be able to afford to go out and buy a horse of this calibre.
"I have to make my horses and I'm enjoying the journey with him, he's my best horse with more to come and the shop window for my business," he added. "This winter I'll follow the Winter Classic series and next summer I want to do area trials and the county circuit; I love the atmosphere of the county shows."
Bryony Crippen made the journey from Buckinghamshire to claim the second qualifying place with the German-bred 7-year-old mare Catyana MDS.
Arena UK, Grantham, Lincolnshire
UNIBED – High Performance Equine Bedding Winter Grade B&C Qualifier – 17 November, 2023
1st Adam Taylor & Gangster II – 0/0 - 28.39 seconds
2nd Bryony Crippen & Catyana MDS – 0/0 - 30.32 seconds
3rd Jessica Hewitt & Arbritrage – 0/0 - 30.51 seconds
NB: Results pending official grading.
Image: Equipics
UNIBED - High Performance Equine Bedding are a family run bedding manufacturer and retailer, based in North Yorkshire.
With welfare, efficiency and providing 5* customer service at the core of what they do, UNIBED is committed to providing their customers with the high quality, chopped and dust extracted straw bedding solutions all whilst offering a fair price.

With pricing options to suit all budgets, customers will continue to receive a product that ticks every box from ease of use to making better choices for the environment.

Visit the UNIBED website www.unibedbedding.co.uk for more information or to place an order today.