Trevor Breen claims another Hickstead title
Sunday 05 September 2021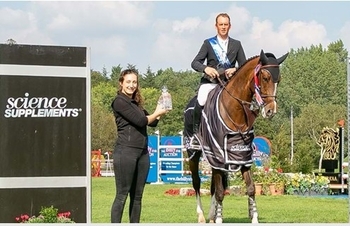 Trevor Breen added another Hickstead title to his resumé when claiming today's Science Supplements Trophy.
The Irish rider has won most of Hickstead's biggest classes including the Derby, Speed Derby, Queen's Cup, Nations Cup and All England Grand Prix, and today he added the feature 1.40m thanks to a polished performance on the home-bred nine-year-old Highland President.
"A lot of blood, sweat and tears has gone into this horse, he's quite strong but he's getting better and more consistent all the time," said Trevor.
The pair was first to go in the jump-off with four other combinations to follow. "To be honest my plan was to go as fast as I could on my horse and what will be will be after that," Trevor added. "The horse hasn't jumped that much against the clock so I did feel I'd left the door open a bit for the others but luckily it was my day today."
Breen is now hoping to repeat his win in next week's Science Supplements All England Grand Prix, so that he can claim the Grand Slam bonus prize of £5,000. "It would be foolish not to go for it, so I'll definitely be gearing him up for the grand prix and I'll be hoping lightning can strike twice."
Chloe Gunning and Iglesias hit the right note in the Lemieux All England 1.30m Open Championship, finishing the jump-off more than four seconds quicker than Jane Annett and Quissini LS in second place.
Douglas Duffin and Zara Zing were in superb form to win the Stoner Jewellers 1.20m Open Championship. Douglas has been competing the grey mare for a month while her owner has been busy with work commitments, and after this show she will be going back to her regular rider Jo McGlory and will be stepping back up to 1.40m level.
The Billy Stud Auction Novice Championship went to Alex Bishop and the six-year-old British-bred mare Nobelle Casscania.

Full results