Sophie Gittus from Yorkshire Junior Academy is April's NAF Shining Star
Thursday 19 May 2022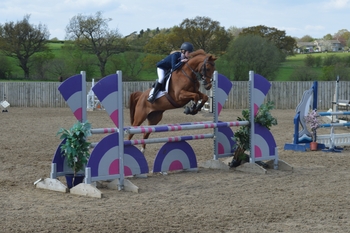 Fifteen-year-old Sophie Gittus from Yorkshire has been awarded April's NAF Shining Star. She is a member of British Showjumping's Yorkshire Junior Academy and was nominated for the award by her coach, Nicola Sheard.
Sophie has two ponies currently competing at different levels; a twelve-year-old chestnut gelding called Lindeth Preacher, who she has owned for two years, and an eight-year-old chestnut mare called Overtons Flower Pot, owned by Sophie since she was a foal.
Sophie and Lindeth Preacher, known as 'Dave' in the stable, have achieved all of their double clears for the Junior Discovery second rounds this year and are aiming for the final, for which they qualified for at Bishopton Equestrian Centre (15th May).
The partnership have represented Yorkshire at the British Showjumping Academy Show twice, first time at Midi level with two double clears and last year at Maxi, where the Yorkshire Team finished in seventh place.
Overtons Flower Pot is currently jumping British Novice and Discovery. They will aim to get their double clears in both classes for the second rounds in 2023, to then hopefully qualify for the final, whilst Dave will be aimed at the Discovery and Newcomers.
Nicola Sheard, Academy Coach of the Yorkshire Junior Academy, says: "Sophie has been an active member of the Yorkshire Academy from the very start. She is excellent to coach with great enthusiasm and her attitude to sessions means that she is always eager to learn and improve."
Speaking of the Yorkshire Junior Academy, Sophie said: "I look forward to the academy show representing Yorkshire. I started out on my 12hh pony jumping Minis up to Maxi, and hopefully this will be my fourth year competing there."
"Yorkshire Junior Academy is the best! I have made loads of friends and have brilliant instructors who are so encouraging. We all have our highs and lows and Nic has seen me through both. Then the highlight of the year is camp, we learn so much and have great fun doing this."
Sophie has her sights firmly set on the British Showjumping Academy Show in August (8th-10th), as well as achieving all double clears required for 2023, as she looks to take some time off later in the year for a heart operation.
Lisa Field from NAF added: "Sophie has a great eager-to-learn attitude and enthusiasm to improve, which is already reaping rewards as she looks ahead to their fourth year of Junior Academy Championships as well as aiming for a national championship title. The Yorkshire Academy sounds like a fun and supportive team which is the perfect environment for success. Well done to Sophie on being awarded the NAF Shining Star for April and we wish you all the best for the year ahead".
The NAF Shining Star Award was introduced when NAF became a British Showjumping Business Partner. The award is for members of a Junior Academy who have shown a great deal of commitment, progression, and outstanding behaviour along with their riding ability and much more. Riders are nominated by their lead coach, and then judged and awarded by NAF to one person each month.
Further information on the British Showjumping Academy Show will soon be available on the British Showjumping website.
For further information on NAF products click here or follow them on Facebook and Instagram for regular updates and rider stories.