Sinead Cox wins the National 1.15m Members Cup Championship at the NAF Five Star British Showjumping National Championships
Thursday 06 August 2020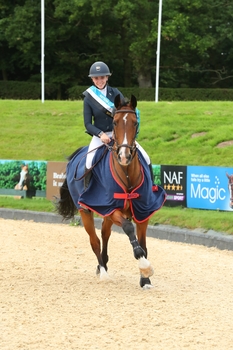 This morning's National 1.15m Members Cup Championship got day four of the NAF Five Star British Showjumping National Championships at Bolesworth off to a thrilling start when just 0.15 of a second separated the top two places.
Of the 39 starters, 11 went on to contest the jump off and it was 17 year-old Sinead Cox from the Isle of Man who emerged triumphant on board Valtaire, a 15 year-old bay mare owned by Valerie Cox. Sinead produced the fastest double clear of the Championship and she flew through the finish in 34.39 seconds.
Finishing in a close second was Gemma Hallett from Wellington, Somerset on Billy Jive, an 11 year-old British bred chestnut mare owned by Sue Jarman. This pairing delivered their double clear in 34.54 seconds. Third place went to Vicky Connor who rode her own 14 year-old grey mare Greetje and they secured the final double clear of the class in 36.39 seconds.
Talking after the class, Sinead said "I'm very very pleased with how today went, this is my first Senior Championship win and the horse jumped really well. I jumped in this Championship last year and was able to build on that today. Prior to the Championships, I have actually been based in Cheshire so that I could have two weeks of intensive training with Mark McCourt. The aim for the jump off was to be able to make all the turns whilst leaving the fences up and I made sure that I rode carefully to the fences that were causing any problems."
The NAF Five Star British Showjumping Championships run between 3 – 11 August at Bolesworth and further information on the show and full results can be found by visiting https://bit.ly/3kkm2fp.
Image courtesy of 1st Class Images.