Olympic Champions Ben Maher and Explosion W Among Those to be Honoured at The London International Horse Show
Thursday 25 November 2021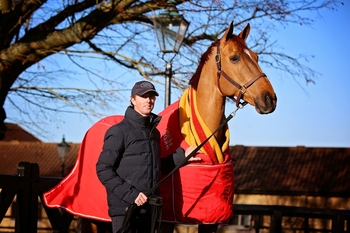 Ben Maher MBE and his Olympic gold medal-winning partner, Explosion W, have been confirmed to be part of the celebratory parade hosted by The London International Horse Show, taking place from 16-20 December 2021. The parade, which will take place during the afternoon performance on Friday 17 December, will feature many of Great Britain's Olympic and Paralympic equestrian heroes, providing fans with an opportunity to celebrate their exceptional performances in Tokyo. Maher and Explosion W will also be making an appearance as part of the evening performance on Saturday 18 December.
Maher, who won individual Show Jumping gold, will be joined by members of the team gold medal-winning Eventing team, who claimed the first British Eventing Olympic title since 1972; Oliver Townend, Laura Collett and Tom McEwen. McEwen went on to claim the individual silver medal following a foot-perfect performance in all three disciplines.
British Eventing enjoyed a particularly fruitful year, with a dominant performance at the FEI European Championships, which saw the team of Nicola Wilson, Piggy March, Kitty King and Ros Canter pick up team gold, with Wilson and March claiming individual gold and silver medals respectively. The bronze medal went to Sarah Bullimore, competing as an individual, and all five athletes will be honoured as part of the parade.
From Dressage, Charlotte Dujardin OBE, Carl Hester MBE and Charlotte Fry, who claimed an Olympic team bronze medal, with Dujardin picking up an individual bronze, will also be present to celebrate their achievements in front of a crowd, something that was not possible in Tokyo. The trio went on to claim a team silver medal at the FEI European Championships in September, alongside Gareth Hughes, who will also be recognised at London's ExCeL.
Maher, Fry and Dujardin, who is now Britain's joint most decorated female Olympian, have also confirmed their participation in the Show's competitive action, giving fans a chance to experience their world-class abilities first-hand.
Speaking from his yard, where he welcomed representatives from The London International Horse Show as he prepares to compete at the Show, Maher said: "The London International Horse Show is still one of the events I look forward to most each year. It has such a unique feel about it and I really enjoy the Christmas atmosphere. When I was a young kid, I remember we managed to get tickets and I was so excited to see some of the best Show Jumpers in action and all the different things that are on offer there, so it is really special now I get to compete there."
Team GB's Paralympic stars will also be in attendance, led by Sir Lee Pearson CBE, who secured his 14th Paralympic gold medal in Tokyo, with a trio of golds aboard his inexperienced ten-year-old, Breezer. Pearson will be joined by teammates Natasha Baker MBE, who collected her sixth Olympic gold at this summer's Games, in addition to two silvers, and Sophie Wells who picked-up the fourth gold of her career, as well as Georgia Wilson, who won two bronze medals on her Olympic debut.
Show Director, Simon Brooks-Ward, said: "It will be a privilege to be able to pay tribute to these talented athletes for their outstanding performances in Tokyo. The parade will allow fans to show their appreciation for what was achieved in Tokyo, and we look forward to giving them a hero's welcome."
More information about The London International Horse Show, including how to buy tickets to be part of this exclusive celebration, can be found here.
Media accreditation is now open, and applications close on Monday 6 December. To apply, please click here.