Nick Skelton, Olympic showjumping gold medallist, to publish his memoirs with Weidenfeld & Nicolson in October 2017
Wednesday 26 April 2017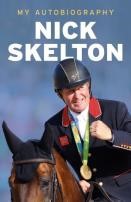 The Orion Publishing Group is delighted to announce that Alan Samson, Publisher of Weidenfeld & Nicolson, has bought world rights from Johnny Whitmore, Commercial Director at the Stellar Group, for Nick Skelton's autobiography, due for publication on 19 October 2017.
In a showjumping career spanning over forty years, Nick Skelton is a legend in the equestrian world. No other rider has won so many major competitions on so many different horses and he is as popular at Olympia and Hickstead as he is at Aachen, Geneva, Paris and Spruce Meadows. Nick has competed in eight Olympic Games. He was part of the gold medal-winning Great Britain team at London 2012 and made history last year by winning the individual Olympic gold medal at Rio 2016, riding his beloved horse Big Star at the age of fifty-eight.
Nick began riding at the age of eighteen months, and at seventeen in 1975 he took team silver and individual gold at the Junior European Championships. He has competed many times for the British team at Championship level, winning numerous medals, both team and individual over a 38-year period. In 1980 he competed in the Alternative Olympics, where he helped the British team to a silver medal. He still holds the British Showjumping High Jump record, of 7'7", which he set in 1978.
In 2000 Nick was forced into an early retirement after he broke his neck from a serious fall. But following an amazing recovery he came out of retirement in 2002 to compete again. Now, with co-writer Bernadette Hewitt, he tells the full story of his eventful life and matchless achievements.
Nick Skelton says "Since I made the decision to retire from competition, for the first time in my life I have the time to devote to telling my story, so it's the right moment for it. I'm delighted to be working with Orion and Bernie on this book, and I'm looking forward to signing copies of the finished product."
Alan Samson says "Nick Skelton's autobiography will be one of the leading sports autobiographies of the autumn, and like its subject it should endure. It is not only a perfect book for the aspiring horseman or horsewoman, but for all of us who admired Nick's heroic and unforgettable feats at the Rio Olympics."
Nick Skelton: My Autobiography will be published by Weidenfeld & Nicolson on 19 October 2017. Hardback copies will be available at £20 and eBook's at £10.99.