Nick Skelton & Big Star bid an emotional farewell
Sunday 14 May 2017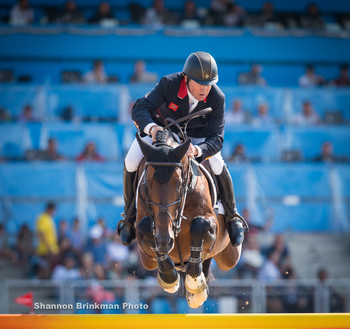 Both emotions and tears flowed all too easily across the packed grandstands at Royal Windsor Horse Show this afternoon when Rio 2016 Individual Gold medallists, Nick Skelton and Big Star, formally retired from competition in front of British Showjumping Patron, Her Majesty The Queen.
The historic backdrop of Windsor Castle, couldn't been more fitting a venue for the emotionally charged final appearance of the legendary horse & rider combination who won Great Britain their very first Individual Gold medal for the sport of showjumping last summer.
Nick, who began riding at just 18 months old on a Welsh pony called Oxo, fought back tears as he brought to a close his long and illustrious career that has seen him appear in excess of a hundred and seventy Nations Cup teams, hold the British high jump record for when he cleared 7ft 7ins on Lastic in 1978, three Hickstead Derby wins in the 1980's, ten European and six World Championship medals plus a World Cup title. Not to mention being part of the Olympic gold medal winning team at the 2012 London Olympics with Big Star before he achieved his penultimate dream of becoming the first British Showjumping Olympic Individual Gold Medallist in Rio 2016.
When Nick won Gold at Rio last summer he was embraced by both the public and media at a global level as, at the age of 58 years, his win inspired generations that it is never too late to follow your sporting dreams. His win was nothing short of miraculous when you consider he had returned to competition after sustaining a broken neck following a fall in September 2000 and his success over adversity really endeared him to the nation. Since his return to riding Nick has also had a hip replacement and knee operation, but none of this deterred him from securing the ultimate dream of an Olympic Individual Gold medal with the incredible Big Star whom he had produced from a novice.
Regarding his returning to riding after his injury Nick commented "Back in 2000 when I had that accident surgeons told me I should never ride again but after two years of not competing I was feeling lost and I didn't know what to do so I got back riding again and lucky I did! I have no regrets about it, when I think about what I have achieved it proves I made the right decision."
The 14 year-old bay stallion, Big Star, is the horse power behind the phenomenally talented duo. An incredibly charismatic horse, it is impossible to not feel immense affection towards his infectious personality and way of going. Big Star, with his exuberance and lion-hearted way neighing at the fences as he enters the arena through to the way he attacks each fence on the course made him a personality in his own right. After his tremendous Team Gold performance at London 2012, this was very quickly recognised and captured by one of the leading national newspapers when they illustrated him as the Usain Bolt of equestrianism.
Nick has always said that when Big Star retires, then he would and today we saw two of the sports biggest personalities and the best the world has ever seen make their final appearance in the arena. Talking previously Nick acknowledged his respect for Big Star by saying "Big Star is an absolutely amazing horse, I trust him, he wants to do it and for me he's the best horse I've ever had. We have been a great team, he understands me and I understand him we just get along really really well."
About his own retirement Nick furthered "I have had quite a lot of time to think about it over the winter and it was a difficult decision to make as I have been riding all my life and competing for so many years, but at some point I have to stop. I will still be very much involved in the sport, just not at as a competitor and I will also be looking forward to the day when we can see some of Big Star's progeny in the arena competing with the same enthusiasm as he did now that will be retiring to stud"
Iain Graham, Chief Executive for British Showjumping commented "I speak for myself, the Board and everyone at British Showjumping when I say how grateful we are for everything Nick has done for us. He has delivered continually for the sport across a period that spans more the four decades and to win the very first Individual Gold medal for Great Britain following a Team Gold at London 2012 is something we will never be able to thank him enough for. The way he produced and nurtured Big Star's natural talent stands testament to Nick's horsemanship and we are delighted that Nick still intends to stay close to the sport. I would also like to thank Gary and Beverley Widdowson for their support in making Big Star available for Great Britain and we look forward to seeing his youngstock making their mark over the years to come".