Kartina van het Maasantje wins the National 5 year-old Championship
Sunday 09 August 2020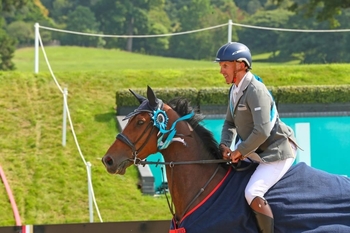 Owned by Nicola Withey and bred by M D Peters, the 5 year-old Kartina van het Maaskantje (Cidane x Cardento) took the National 5 year-old Championship at the NAF Five Star British Showjumping Championships this afternoon.
Ridden by Jonathan Egmore from Diss, Norfolk who has produced numerous talented horses through his career in the sport they posted a foot-perfect double clear in a time of 40.39 seconds to give them a fraction of a second lead to take the title. Second place went to Jessica Hewitt with Colibria II Z whilst Angel Tough, who won the Winter 7 year-old Final with one of her homebred horses last night, took third with Big M (Uriko x Aloube Z) owned by mother Lyndsey Tough.
The NAF Five Star British Showjumping Championships take place between the 3 – 11 August 2020 and further information on the show can be found here https://bit.ly/3a4cy2Q and results from all classes here https://bit.ly/2Xzma0M.
Image courtesy of 1st Class Images.
NB: Results correct at time of writing pending official grading.