Jodie Hall McAteer makes history when crowned Leading Pony Showjumper at Horse of the Year Show
Thursday 06 October 2016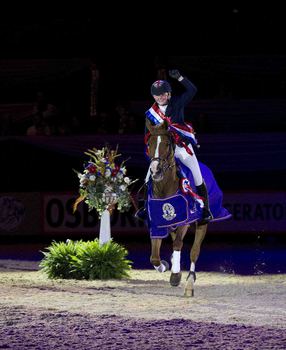 Jodie Hall-McAteer saluted the "phenomenal" Tixylix after being crowned 2016 leading pony showjumper of the year.
Hertfordshire teenager Jodie lit up day two of the Horse of the Year Show at the NEC in Birmingham by taking top spot and also finishing second aboard Little Squire.
It is believed to be the first time in the prestigious class's 67-year history for a rider to claim first and second.
And there was hardly a dry eye in the house after 18-year-old Tixylix, previously ridden to victory in the same competition by current Great Britain international star and Rio Olympics reserve Jessica Mendoza in 2010, once again delivered a magical display.
The winning jump-off time of 36.93 seconds was more than a second quicker than Jodie's round on Little Squire, while Emma Crawford and Moonlight Flight finished third in a pulsating battle that saw last year's winner Robert Murphy and current European pony champion Jack Whitaker finish outside the top three.
"I am very proud, especially as it's my last year on ponies, and it was extra special with Little Squire, who I have brought through from the start, coming second," Jodie, 16, said.
"Tixylix is a phenomenal pony. I've had her for four years, and this is definitely right up there in my career. It's unbelievable, amazing."
Tixylix is owned by Jessica Mendoza's mother Sarah, and Jodie added: "I got her at the beginning of 2013. I was second in this class in 2013 and 2014, and then last year I had an unlucky fence down, so I was quite determined this year!
"She just loves her job. Every time she goes in the ring, she just knows when it is a big occasion.
"She can be a bit difficult in the warm-up - she does her own thing - but when she sees the lights and the crowd, she knows it's time to do her job.
"HOYS is the highlight of the year for pony riders, and I haven't won this class before, so it's extra special."
AUDIO WITH JODIE HALL-McATEER, WINNER OF THE LEADING PONY SHOWJUMPER OF THE YEAR AT THE HORSE OF THE YEAR SHOW
http://www.lloydbell.co.uk/access/client_zone/Hoys_Hall_day2.mp3