Jenny McBride scoops first place in the NAF Five Star Bronze League Qualifier at Felbridge Showground
Monday 16 May 2022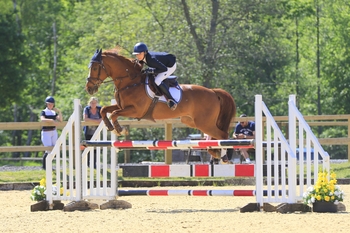 On winning form, Jenny McBride from London scooped first place in the NAF Five Star Bronze League Qualifier which took place at Felbridge Showground on Saturday jumping her own 14 year-old chestnut gelding, Boswell Mr Heartbreaker.
Sixty-two starters began over the ten-fence track and after two rounds of showjumping just fourteen remained to contest for a treble clear in the final jump off. With a turn of speed, Jenny was able to produce the winning triple clear in 33.55 seconds, just 0.3 of a second faster than her closest rival.
Felbridge Showground – Saturday 14th May 2022
NAF Five Star Bronze League Qualifier
1st Jenny McBride & Boswell Mr Heartbreaker – 0/0/0 – 33.55 seconds
2nd Cameron Cobb & Siediola V – 0/0/0 – 33.86 seconds
3rd Southerly Roberts & Tinx – 0/0/0 – 35.96 seconds
For the list of qualified riders so far click here.
NB: Results pending official grading.
Image: Felbridge Photography - www.fphotos.net
NAF Five Star:
NAF's premium range of Five Star brands include Superflex, Superflex Senior, PROFEET, Optimum, Magic, Oestress and Respirator Boost with quality at the heart of everything they do. They are a UFAS (Universal Feed Assurance Scheme), GMP+ (International Feed Assurance Scheme) and BETA NOPS (Naturally Occuring Prohibited Substances) accredited company and this enables them to guarantee full traceability on all the natural ingredients they utilise in their formulations, which are also selected in compliance with the FEI guidelines for Clean Sport. For further information, visit www.naf-equine.eu/uk/index.jsp.